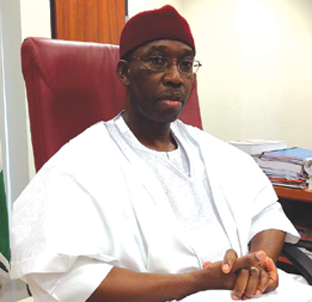 GOVERNOR Ifeanyi Okowa
Peoples Democratic Party (PDP) chieftain, Chief Sunny Onuesoke, has lambasted Dr Cairo    Ojougboh,    the  Deputy National Chairman of the Senator Modu Sheriff-led faction of the party  for linking the    removal of the Speaker of Delta State House of Assembly, Hon Monday Igbuya, to Governor Okowa.
Ojougboh, in a statement immediately after the impeachment of the Speaker in Thursday, had accused Okowa of being responsible, alleging that he incited members of the state House of Assembly Igbuya   because he accompanied former Governor against James Ibori    on a visit to    the Governor of Bayelsa State, Seriake Dickson.
Reacting to the allegation, Onuesoke, who described Ojougboh as a PDP member who had been working with Modu Sheriff to cripple the party in favour of All Progressive Congress (APC), wondered how Okowa would have incited members of the state House of Assembly against      Igbuya when there evidence that there is no acrimony between both leaders and they have been working in harmony for the betterment of the development of Delta.
"It was widely reported that Governor Okowa tried as much as he could to resolve the issue with members of Delta State House of Assembly, but his attempt ended in a deadlock as members stuck to their guns. When his personal attempt to resolve the issue failed, Okowa and other prominent Deltans including former governor, Chief James Ibori    mounted    pressure on the House members to revert the impeachment of the ousted Speaker. Still that effort failed.    If Okowa was behind Igbuya's predicament,    he would not have gone so far as to resolve the matter," Onuesoke argued.
He that Ojougboh's accusing Okowa of working against Igbuya because he, Igbuya accompanied   Ibori    on a visit to Bayelsa is a lie, a figment of his imagination and attempt to put Okowa in the bad books of Ibori so that he and Sheriff can destroy the    unity of PDP in Delta. He stated further that Ojougboh's action is to cause distraction and division within PDP    in the state so that the Modu Sheriff's camp could penetrate the state and destroy the good work of the Okowa.
While advising the people of Delta and PDP loyalists to disregard Ojougboh's allegation against  Okowa, he said, "No matter how Ojougboh tries to twist the issue, it is only fools that will    believe    his    allegation against Okowa."