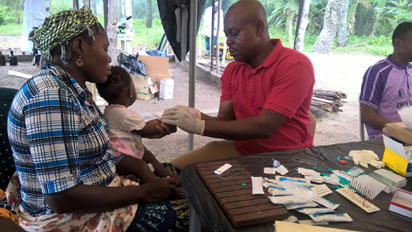 HEALTH SCREENING: A mother and her baby being screening during the health awareness exercise held by Malaria Society of Nigeria in Badagry.
By Chioma Obinna
It is no longer news that the world has witnessed improved access to malaria interventions especially in Sub-Saharan Africa ranging from diagnostic testing for children as well as preventive treatment for pregnant women. This can be substantiated with the 2016 World Malaria Report released by the World Health Organization, WHO, which showed that number of malaria cases declined by 88 percent while death rates declined by 90 percent in Africa between 2000 and 2015.
However, despite this heart-warming news, the scourge has not by abated as it still poses a threat to global health.
For instance, it is currently threatening the achievement of the WHO Global Technical Strategy, GTS, for Malaria 2016–2030 targets of reducing cases and mortality by 90 percent by 2030.
Malaria has continued to cause the world not only lives also resources. A WHO report in 2015 revealed that an estimated $2.9 billion was spent on malaria control and elimination alone, with increased $ 0.06 billion since 2010. However, this is still not enough as it represents just 46 percent of the GTS 2020 milestone of US$ 6.4 billion. The GTS 2020 calls for elimination of malaria in 10 countries by 2020.
In the views of Dr Margaret Chan, Director-General, the world has made excellent progress, but work is still incomplete. Last year, malaria reached 212 million cases and 429, 000 deaths. Across Africa, millions of people still lack access to the tools they need to prevent and treat the disease. In many countries, progress is threatened by the rapid development and spread of mosquito resistance to insecticides and antimalarial drug resistance.
In Africa especially, the burden of malaria has continued to hamper economic growth. Malaria prevention initiatives, treatment and care have been estimated to cost Africa $12 billion annually. This is exclusive of the man-hours lost due to the sickness.
Back home in Nigeria for instance, statistics from the Federal Ministry of Health showed that malaria accounts for 60 percent of outpatients' visits to health facilities, 30 percent childhood death, 25 percent of death in children under one year and 11 percent maternal death.
Financially, the implication is depressing. The annual financial loss due to malaria is estimated to be about N132 billion yet, it is a treatable and preventable disease
Also, the impact of malaria on national health and productivity is equally substantial. According to the National Malaria Control Programme, "Malaria is endemic in Nigeria with 97 percent of the population of 170 million living in areas of high malaria risk and an estimated 3 percent living in malaria free highlands. Nigeria bears up to 25 percent of the malarial disease burden in Africa, making it the country with the highest malaria mortality.
In recognition of these challenges, governments, international agencies and some private organizations have deployed their arsenal to tackle the scourge. Their commitments were made clear in this year's theme; "End Malaria for Good".
One of such organisations committed to ending malaria in Nigeria is ExxonMobil. Over the years, ExxonMobil has been taking frontline positions in rolling back malaria. The oil firm has pioneered and in some cases collaborated with other corporate organizations on some initiatives to push back the lethal disease.
In 2008, ExxonMobil in collaboration with Coca-Cola Africa Foundation and Standard Chartered Bank, UK, reached out to 17 African countries with the distribution of Long Lasting Insecticide Treated Nets (LLITNs) under its "Nets for Life" project. The programme effectively reached 475, 177 individuals across four states in Nigeria. In 2011, ExxonMobil inaugurated 'Power Forward', an initiative coordinated by an NGO Africare on behalf of ExxonMobil to promote malaria prevention among its partners in the supply chain and their communities. The initiative is designed to achieve 80 percent reduction in malaria and 100 percent reduction pregnant women in two communities in Akwa Ibom State (Ibeno and Eket) and Rivers State (Bonny and Ogu bolo).
Under the initiative ExxonMobil has distributed LLITNs as well as facilitated malaria testing and vector control. A similar campaign in partnership with Jhpiego, an affiliate of John Hopskin University was done in 2011 where over 48,000 pregnant women in about 163 communities received treatment alongside LLITNs. Other initiatives and partnerships include the NightWatch Campaign, GrazRutSoka, Power Forward programme, World Bank Monitoring and Evaluation (Branded ExxonMobil/World Bank partnership) among others. The company has committed more than $150 million to help reduce the impact of malaria. Beyond malaria ExxonMobil has made critical interventions in the health sector. From free medical outreach to building health facilities, equipping and training health workers, the company's activities have continued to enhance healthcare delivery in Nigeria.
Between 2006 and 2011, the company spent close to N1 billion to train personnel in Biomedical Repair in Dallas, USA. ExxonMobil also committed over N500 million to the construction of Maternal Referral Centres (MRCs) in Kwara, Imo and Bayelsa States, which will provide maternal healthcare services to women in the communities in which they were constructed, as well as to women in neighbouring communities.
In addition to this, the MRCs will provide maternal education and training so that newly established, up-to-date healthcare practices can be adopted throughout the community. The company has also contributed over N130 million in the construction of Nanka Comprehensive Health Centre to provide general healthcare services to the communities.
As the world marks the 2017 World Malaria Day, health experts have advised that the focus should shift significantly to malaria prevention as a sure way of attaining government's target of reducing malaria related deaths by 2020.