Kano State governor, Abdullahi Ganduje, on Thursday observed that there were about three million out of school children, roaming the streets of the state, as Almajirai – pupils of Quranic schools converted to beggars.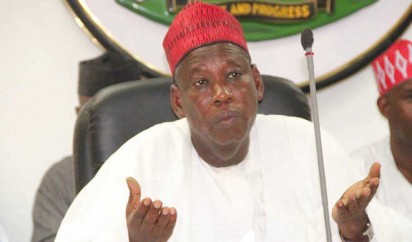 He noted however that most of such kids were found out to be from neighboring states and some countries in West Africa.
"What we discovered from our survey is that many of these Almajiris come from the Niger Republic, some from Chad, Northern Cameroon and some from other states of the north-west", he pointed out.
Speaking during the Kaduna state Economic and Investment Summit, Governor Ganduje said a recent survey carried out in the state established the number of the Almajirai, saying this has now become a social and economic problem.
"So, if we can come together and have a common synergy to introduce a common legislation, preventing the movement of school age children from one place to another, I think the states will find it very easy to address the problem of Almajiri syndrome", he emphasized.
Stressing that the Almajiri syndrome is one of the serious problems worrying the North-west geopolitical zone, he said it was imperative for the seven states of the sub-region to identify the economic advantages they can use to move forward and tackle their common social problems.
A statement by Salihu Tanko Yakasai, DG Media & Communications, Government House, Kano quoted the governor saying, "These seven states should try, identify the economic advantages that we can lay our hands on as to move this region forward. And what are the social problems that we are having?
"This is the first time, since the inception of this democracy in 1999, where the seven governors (of the north-west zone) decided to come together to form a forum. We even went to the extent of employing a consultant who is giving us the green light on various issues on economic development.
"Let me start with the position of the North-west in Nigeria. We are the most populous geopolitical zone, constituting 25 percent of the population of Nigeria.