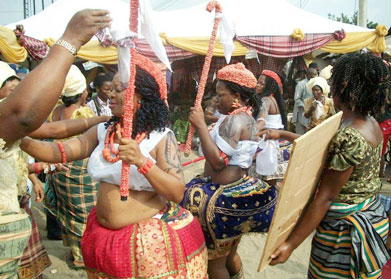 A group of maidens presented a dance representing the traditional marriage rite of the people of the community during the event.
An Akure Customary Court in Ondo state, on Wednesday dissolved a nine-year-old marriage over childlessness.
The President of the court, Mr Ayodele Omotola, in his judgment, held that the marriage between Isaac Apata and his wife, Caroline, had broken down and dissolved it accordingly.
Omotola ordered the parties to respect the law and give peace a chance to reign.
He cautioned them against molestation and harassment, warning that anyone caught violating the court's order would be dealt with according to the law.
Caroline had petitioned the court to dissolve the marriage on grounds of childlessness and lack of love.
She told the court that she deliberately deserted her matrimonial home for four years so that the respondent could be free to look somewhere to have a child.
"When all eyes were on me as the cause of our childlessness, I had to pack out to give him freedom to look somewhere else.
"I am in court to ask for respondent's freedom to remarry," she said.
She added that she did not hide anything from the respondent concerning her fertility problem when she first met him.
According to her, the respondent instigated his younger brother against me.
Isaac, in his response, said that he did not neglect the complainant but that she packed out on her own volition.
He also denied allegation of instigation, and told the court that he was ready for the dissolution of the union.