…When dignitaries say rib-cracking jokes
By Olasunkanmi Akoni
'WHEN a great man dies, for years the light he leaves behind him, lies on the path of men," says Henry Wadsworth Longfellow, (1807-1882), United States poet. Marcus Julius Cicero (106-43 BC), writer, politician and great Roman orator, also said, "The life of the dead is placed in the memory of the living."
These quotes were true of the late former Military Governor of the defunct Western Region, Major General Adeyinka Adebayo, (retd). Like wild fire, the death of the great nationalist, General Adeyinka Adebayo, (Retd),  considered as father of Yoruba race spread across the nation, particularly, the South West region.
Adebayo, a war veteran and hero of Nigeria Civil War, died penultimate Wednesday, at Ladipo Bateye Avenue, his Government Reserved Area, G.R.A, Ikeja, Lagos residence. Adebayo, President of Yoruba Council of Elders, YCE, who died a day to his 89th birthday, was said to have slumped and never recovered. The son of the deceased, Adeniyi Adebayo, a former Governor of Ekiti State revealed that on the fateful day, his father in his usual character had packed all national dailies to read but on his way to the table at the veranda of the house, slumped and all effort to revive him proved abortive before he was later pronounced dead at the hospital where he was rushed to after the incident.
He noted that though major burial ceremony would be handled by governors of the South west due to the status of the deceased, family would also be part of the ceremonies which may  commence after Easter festivities. General Adebayo was said to be a man of peace, who though trained as a military man, advocated for peace and dialogue in settling the Nigeria Civil war as opposed to arms conflict, a position which later earned him the chairmanship of the Committee on Reconciliation and Integration after the war.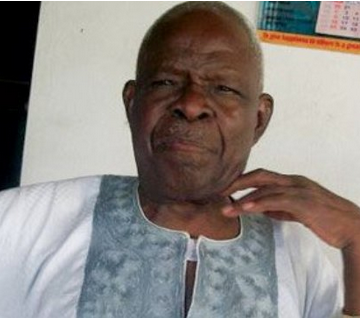 Barely hours after the announcement of his death eminent Nigerians, turned the residence into a kind of Mecca, to shower tributes on the late elder statesman. Among the early callers were, Governor of Lagos State, Mr. Akinwunmi Ambode, former Head of State, General Yakubu Gowon (retd), former President Olusegun Obasanjo, former Head of Interim National Government, Ernest Shonekan and All Progressives Congress, APC, stalwart, Bola Tinubu; first National Chairman of APC, Chief Bisi Akande, Ogun State ex-governor, Aremo Olusegun Osoba and immediate past Governor of Edo State, comrade Adams Oshiomhole. Ailing President Muhammadu Buhari was said to have also via telephone conversation commiserated with the family over the demise of the elder statesman.
Flip side of the condolence visits: The condolence visits have continued to witness rib cracking jokes as dignitaries employ the tactics to celebrate the good life spent by the great elder statesman. Former President Obasanjo led other rib crackers at the event such as Tinubu, Fayose, Oshiomhole, among others. Obasanjo who arrived late on the second day of demise, Thursday, precisely, after initial commiseration with family members and other guests, called for anyone led by the spirit to lead a prayer session.
As majority showed sign of shyness, OBJ, as he is fondly called, said, "In the absence of no one being led by the spirit, Pastor Obasanjo will lead the prayer session." He started with praise worship song of; "Afi Ope fun 'Lorun…," meaning, "We give praise to Almighty God." This sent most of the guests into laughter with the manner the former president volunteered to take charge of the session. He later offered prayers for the repose of the departed's soul, the bereaved family as well as the country.
On the death of Adebayo, he said: "So the old order has been a bit completely turned over and new order is coming up. And the way things are going, maybe in another five or 10 years, there will not be many of the officers that were commissioned before independence. The officers have done their best and they have yielded the ground to those that are coming behind. I hope that they will do their best and yield the ground for those that will come behind them."Also former Head of State, Gowon, jokingly, told visitors that "I told  him, Adebayo, to go and prepare a place for us that he has left behind, as we are all coming to where he has gone sooner or later."
Tinubu, "Jagaban," as fondly called, was also full of jokes as he exchanged pleasantries with guests. Jagaban, who came in company of Ambode, at a point, was looking for the governor, inquiring if he (Ambode) had left the place but the shy Ambode soon emerged from a corner, saying, "Oga (boss), am still very much around sir."
Tinubu responded, "We thought your excellency had gone, but now that you are still around, we are honoured by your presence and regards for elders who are still in the house. Thanks your Excellency for the honour done us." Osiomhole will never cease to spring surprises. Guests at the residence were shocked when former governor of Edo, Oshiohmole, alighted from a chartered Camry model, branded cab, in company of his wife.
When asked by one of the dignitaries why he choose to come in a cab, Oshiomhole, replied, "The cab is befitting enough moreso, we don't want to be caught unnecessarily in Lagos traffic as cab operators know how to manoeuvre their way whenever there is traffic jam." This sent many into uncontrollable laughter before Oshiohmole walked into the premises. However, one of the dignitaries offered to give Oshiohmole and his wife a lift out of the place in a Black Jeep, (registration number withheld).
Fayose, told the widow, Mrs. Dupe Adebayo, and the son of the deceased, Otunba Adeniyi, "Late General's burial is not family or a partisan affair, rather it should be a state affair. The family in this burial should be a vehicle that would direct the burial affairs. I have written letters to my colleagues (governors) because I don't think this is a business of the family. I believe that it should be a state burial. I don't know how many were born at the time he (Adeyinka Adebayo) was the military governor of the defunct Western region. This burial is an issue for the South-West governors. And other constituencies Baba represented while alive."
The governor noted that Adebayo hailed from Ekiti State and the State is first among equals in the burial rites, saying, "My other governor colleagues cannot communicate with me, I am the one to communicate with them on burial issues."