Prof. Mahmood Yakubu, the Chairman of the Independent National Electoral Commission(INEC) said only one out of the 167 elections conducted under his watch had so far been nullified by the court.
Yakubu disclosed this while answering questions from journalists on the credibility of INEC, at the commission's first quarter meeting with the media on Monday in Abuja.
He said that the commission was working to ensure that its actions were guided by the Electoral Act.
Yakubu said that another scorecards of the commission was the level at which the validity of elections conducted under his watch were upheld in the court of law.
"We have so far conducted 167 elections, and so far only one has been nullified by the court.
"We will continue to do what we do courageously, maybe when we are not here, somebody will say the commission has done very well,'' Yakubu said.
He said that though the commission had also been accused of conducting inconclusive elections, over 75 of the election conducted by the current administration were concluded at first ballot.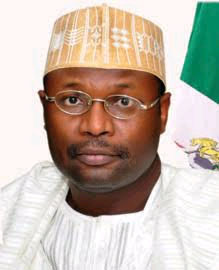 The chairman, however, said the elections declared inconclusive were done in line with the rules and regulations guiding the conduct of elections, adding that INEC would not lower the bar in the conduct of credible election.
"We are conscious of our responsibilities and we are going to proceed as we have been doing''.
On the court ordered re-run election, Yakubu said that the commission was left with Anambra Central Senatorial District legislative poll as the only one outstanding.
The chairman, who said that this was as a result of litigation surrounding the poll, expressed the hope that the litigation would be addressed for INEC to conclude the election.
He further said that the commission had two other bye-elections to conduct as a result of the death of two elected members.
These, according to him, were Warri South I State Constituency, Delta as well as the Mashi/Dutsi Federal constituency election, Katsina state.
Speaking on INEC staff indicted in election malpractices, Yakubu said that though it was painful that some members of staff of INEC were indicted, ''the givers of the bribes should also be sanctioned.
"What we have been hearing about corruption in the electoral process is that, it has focused more on the taker, not about the giver. Somebody must have given for a person to take.
"I am not excusing the taker at all, but if we must solve this problem, we must also beam our searchlight on the givers.
''If there is nothing to give, there will be nothing to take.
"So if we must have comprehensive solution to this problem, we must deal with both the givers and the takers.''