By Bose Adelaja
Residents of Oko Addo village, Addo Nla Town in Eti-Osa Local Government Area of Lagos, have begged Governor Akinwunmi Ambode to save them from  land grabbers.
Some of the residents, numbering over 120, took to the streets in protest against what they described as  encroachment on their land by the land grabbers  who they claimed also  launched  attacks on them.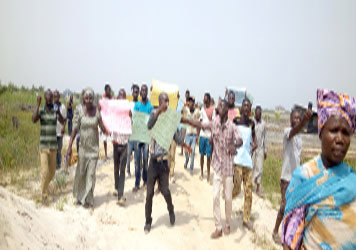 The residents said  they no longer sleep with their two eyes closed.
The protesters marched from Lekki Gardens bus-stop to other parts of Oko-Addo. They alleged that  the hoodlums were hired by an influential business man (names withheld) who, according to them, evicted  some of residents after reallocating their land to strangers.
The protesters, who carried  placards with various inscriptions, asked  Ambode to invoke the  Lagos Anti-land Grabbing Law on the suspects while also demanding  that they be allowed back to their homes.
The community head, Chief Riliwan Olayiwola, 70, told Sunday Vanguard  his people had  cried to government on  several occasions on the activities of the land grabbers. ''We have cried out for government intervention but it appears the hoodlums are more powerful as they have sent many of us packing by demolishing    some structures and converting others to personal use. As you can see, we cannot fight government but all we want is peace to return to the land so that our people can go back home," he said.
One of the protesters, who gave his name as Prince K.O. Eshinloye, said his forefathers were  the owners of the vast  land through inheritance. Another protester, Ayo Onigbinde, said he lost millions of Naira to the development as his property was converted by the hoodlums.