………as Hayatou turns desperate
By John Egbokhan
The President of the Confederation of African Football (CAF), Issa Hayatou is increasingly getting desperate, as the clock ticks down to the 39th Ordinary General Assembly of CAF, at which election into the Executive Committee will hold on March 16 in Addis Ababa.
Hayatou, who was first elected in 1988, is seeking an unprecedented eighth consecutive term as CAF President in the Ethiopian capital but unlike in the past elections, where he had a roller-coaster ride to victory, the 70 year old former Cameroonian athlete, is facing what seems like an uprising from delegates who have sworn to ease him out.
And adding his voice to the clarion call against Hayatou, African legend, Samuel Eto'o has said that Hayatou did well but that the continent needs a change now.
Madagascar Football Federation President, Ahmad is the lone challenger facing Hayatou in the Presidential race, that  has seen many major blocs in the continent pulling their weight behind the former. He is leading the change campaign.
Informed sources told Sports Vanguard that Hayatou has failed to get the endorsement of Cameroon's President, Paul Biya, who we learnt was keen to see a change of guard in CAF.
It was reliably learnt that Hayatou tried to secure a meeting with Biya, who declined, a development that an observer described as "bad for Hayatou".
The top African football official said the absence of top Cameroonian government officials at the final of the African Women's Nations Cup in Yaounde, was a precursor to the current happenings that Hayatou does not enjoy the full support of his kinsmen.
As if that was not bad enough, Hayatou got another shocker from one of Cameroon's most-decorated footballer, Eto'o, who called for a change of leadership in CAF.
Eto'o, who scored 57 goals for the Indomitable Lions told Jeuneafrique.com that: "No institution resists the laws of cycles and change. I just hope that these changes will help African football to evolve.
"The development of CAN (AFCON) has improved the infrastructure in the host countries. But the main beneficiaries of these changes must be players, especially those in Africa.
"CAF has reached a level that we should bring freshness to open up other horizons. Without denying what has been done, these changes could prolong and improve what has been accomplished.
"Look at FIFA: the arrival of Gianni Infantino in the presidency has reignited innovation. Trying to do something else at the head of CAF is not a bad idea", added the Antalyaspor striker.
Seemingly rejected at home,  Hayatou has been making frantic moves to curry favour from other countries, who we learnt are pledging their allegiance to Ahmad.
52 countries are expected to vote in next Thursday's election, with at least 14 countries in the COSAFA region putting their necks on the line for Ahmad. To win the election, Ahmad needs 27 votes.
Interestingly, it was gathered that Hayatou's campaign strategists have been making entreaties to Ahmad to step down and be compensated with a seat in the FIFA Council but the latter politely rejected, insisting that the race was not personal but borne out of the need to save African football from dictatorship.
But Ahmad's camp has offered a soft landing for Hayatou, with an offer of Honourary Life President to the Cameroonian, complete with pension.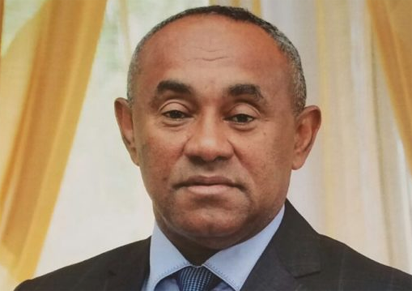 But another observer said Hayatou's desperation paints gloom for the future of football.
"He seems to be desperate because all the people he is calling are telling him no. He called one of the Presidents in the CESAFA region, that hosted a tournament not too long ago, but the latter refused to speak to him.
"The handwriting on the wall is clear that the game is up for him. His last push for votes will come in Addis Ababa, where muscles will be flexed but Ahmad is enjoying tremendous support and goodwill from a lot of countries, who desire a change in CAF and feel that the time is March 16th", added our usually reliably source.