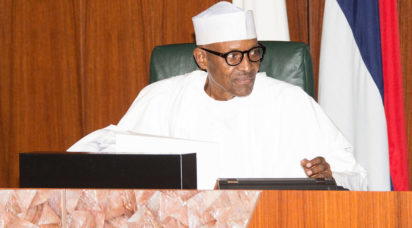 PRESIDENT BUHARI
By Emma Ujah, Abuja Bureau Chief
President Muhammadu Buhari has appointed a new Board of the Nigeria Sovereign Investment Authority (NSIA). It has Mr. Olajide Zeitlin as Chairman.
The other members are: Mr. Bello Maccido (North West), Ms. Lois Laraba Machunga-Disu (North Central), Mr. Urum Kalu Eke, MFR (South East), Mrs. Halima Buba (North-East) and Mr. Asue Ighodalo (South-South). The Chairman represents South West.
The National Economic Council (NEC) had at its 74th session, on the 16th of last month adopted the nominees of to the board as presented by the Minister of Finance, Mrs. Kemi Adeosun
The Board reconstitution restores the number of Board members to 9 Directors, 3 of whom are Executive Directors (EDs).
Commenting on the development, Mr. Uche Orji, the Managing Director and CEO, NSIA said "The Board reconstituted is indicative of Government's commitment to strengthening governance at the NSIA.
"With the assemblage of this first class Board, the Authority is positioned for even greater performance as we intensify efforts to deliver on our mandate".
Who they are:
Mr. Olajide Zeitlin, the new Chairman, is a private investor with interests in Africa and the United States. He formerly served as a Partner at Goldman, Sachs & Co., where he held a number of senior management positions, including that of Global Chief Operating Officer of their investment bank. He is the Chairman of the Board of Directors of Coach, Inc. and Founder of the Keffi Group. He serves on the Boards of Affiliated Managers Group, Inc, Vascular Biogenics Ltd and also on the Boards of a number of charity and commercial interests.
Mr. Zeitlin holds an A.B. in Economics and English magna cum laude from Amherst College and a Masters Degree in Business Administration (MBA) from Harvard University.
Mr. Bello Maccido a Corporate and Investment banker with over 31 years post graduate experience and brings over a decade of boardroom knowledge to the NSIA. He had at different times served on the Boards of FBN Holdings Plc, First Bank of Nigeria Plc and Legacy Pension Manager Limited and is currently the Chairman, FBN Merchant Bank Ltd.
Ms. Lois Laraba Machunga-Disu is a petroleum-energy economist and analyst, with over 30 years Oil and Gas industry experience and is a provider of consulting and technical services in the sector, as CEO and Director in associate energy companies. Before which, she worked for 21 years at the Nigerian National Petroleum Corporation (NNPC) where she held senior and management positions with experiences in, Exploration and Production (E&P) joint interest management with the major international oil companies (IOCs) and was responsible for Budget and long term Strategic Plan Development.
She holds a Bachelor of Science Degree (BSc) and Masters in Business Administration (MBA) from the University of Maiduguri and is a Fellow Chartered Institute of Finance and Control in Nigeria.
Mr. Asue Ighodalo is a founding partner of Banwo & Ighodalo, a leading multidisciplinary law firm; which provides first-class legal advice on numerous aspects of corporate and commercial Nigerian law. He obtained his first degree in economics from the University of Ibadan, a law degree from the London School of Economics; and was admitted into the Nigerian Bar in July 1985. His core areas of practice are corporate and project finance, securities and capital markets, energy and natural resources, mergers and acquisitions and banking and securitization.
Mr. Ighodalo Asue is the current Chairman of Sterling Bank Plc and Dangote Flour Mills Plc; and he also serves on the Boards of Ensure Assurance Company Plc, Okomu Oil Palm Company Plc, CardinalStone Partners Limited, Global Mix Limited, Mainstreet Technologies Limited, Christopher Kolade Foundation and Fate Foundation.
Mr. Urum Kalu Eke, a consummatefinancial services expert is the Group Managing Director, FBN Holdings Plc. He is also a non-Executive Director of First Bank of Nigeria Limited and FBN Merchant Bank Limited. He joined the Board of First Bank Plc, an FBN Holdings Company, in 2011 as Executive Director, Public Sector South and until his appointment as GMD of FBN Holdings was Executive Director, South at the Bank. Prior to this, he was the Executive Director, Regional Businesses, Lagos & West at Diamond Bank Plc. He has over 30 years' experience in financial services covering auditing, consulting, taxation, process engineering and capital market operations.
Mrs. Halima Buba is a financial services expert with nearly two decades of cognate experience spanning diverse functions in the banking industry. She rose to the level of Deputy General Manager at Ecobank Nigeria Limited before resigning to take up appointment as a pioneer Executive Management staff at TAJ Consortium Nigeria Ltd.