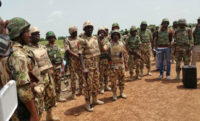 Nigeria Soldiers
The Nigerian Army said on Thursday that it had arrested three Chadians in Borno as part of its ongoing anti terrorism war in the North-East. Maj.-Gen. Lucky Irabor, the Theater Commander, Operation Lafiya Dole, disclosed this while briefing newsmen in Maiduguri. Irabor said that the suspects were arrested at a check point in Damasak.
"On Jan.26, at about 1745 hours three Chadians were arrested at a check point in Damasak after a mobile phone belonging to one of them was flipped through and it shows pictures of men in both military T-shirt and mufti with GPMG, FN and AK 47 rifles. "The Chadians are in custody undergoing interrogation," he said.
Irabor said that the army had also intercepted seven females from Niger Republic last month. "On Jan.16 at about 1715 hours, troops deployed at Cham check point intercepted seven female immigrants from the Republic of Niger enroute Yola via Kano. "Three of them were with their passports while four had no means of identification," Irabor said.
He said the immigrants were in custody undergoing interrogation and will be handed over to the Nigeria Immigration Service for further action. Irabor said that the army had also conducted ambush operations against the Boko Haram terrorists and recovered large quantity of weapons. "On Jan. 28, at about 1315 hours our own troops deployed at Miyanti conducted ambush along Miyanti- Banki road.
"The troops encountered the terrorists elements and subsequently engaged them where two were killed in action," he said "Items recovered from them include: an AK47 rifle; three magazines and five rounds of 7.62 mom special. "There were also two pieces of 36 hand grenades; a cell phone and a motorcycle," the commander said.
He said that the army had intercepted some terrorists logistics. " When our troops were returning from Bitta on Jan.19 at about 1400 hours, they sighted two suspected terrorists at Geleri. "The terrorists immediately fled.However, some items were recovered from them, which include: 31 rounds of 7.62 mm ammunition; 22 rounds of 7.62 special; a Nokia cell phone connected with wire and two packets of dicloforte with 10 tablets each, among others," Irabor said.