The Southern Nigeria Peoples Mandate has appealed to both Anambra and Federal Governments to urgently resolve the accommodation problem of more than 100 persons displaced by Feb. 15 tanker fire in Onitsha, Anambra.
The President of the group, Mr Augustine Chukwudum, who made the plea in Onitsha, said about 15 families were rendered homeless.
He said that the families were left with nothing after the articulated vehicle spilled inflammable content around the DMGS Roundabout, which resulted to  a huge inferno.
The fire reportedly razed 13 buildings, 15 vehicles, five tricycles and three filling stations.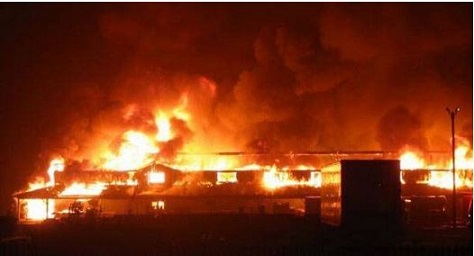 Chukwudum said that such a gesture would bring relief to the affected families who had been rendered homeless. "The human elements affected by the incident should be given optimal attention.
"These 15 families of more than 100 persons altogether should be given  befitting temporary accommodation before any other investigation should continue.
"This is an eye opener for the state government to ensure that mushroom filling stations do not exist in residential neighbourhood in the state.
`Again, fuel and gas businesses should be sited away from residential areas, especially the densely populated area of Onitsha metropolis.
"We call on public spirited individuals, philanthropists and people that have spare clothes, household items and foodstuffs to come to the immediate aid of the displaced persons,'' he said.
Chukwudum also called on the Federal and State Governments to adopt the use of pipelines for petroleum products distribution rather than the use of trucks.