By Charles Kumolu & Prince Okafor
LAGOS— SOME eminent Nigerians, yesterday, demanded that the leadership class prioritise the need to be closer to the people to achieve the cardinal objectives of governance.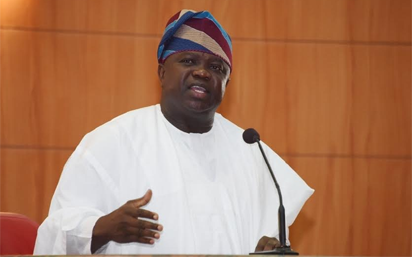 They also observed that effective leadership was a necessary catalyst for the development of Nigeria.
Specifically, Governor Akinwunmi Ambode of Lagos State  noted that of all the megacities in the world, Lagos recorded the highest number of immigrants daily.
The situation, he argued, expanded the responsibilities of making Lagos the desired megacity.
These were said at a lecture convened, yesterday, in Lagos by the Centre for Value in Leadership, CVL, in honour of Prof. Pat Utomi on his 61st birthday.
Those at the event included the Deputy Governor of Anambra State, Dr. Nkem Okonkwo; Deputy Governor of Edo State, Mr. Philip Shaibu; former Governor of Cross River State, Sen Liyel Imoke; the Ooni of Ife, Oba Oba Adeyeye Enitan Ogunwusi; Professor of African Economies at Oxford University, United Kingdom, Professor Paul Collier and General Manager/Editor-in-Chief of Vanguard Newspapers, Mr. Gbenga Adefaye, among others.
Key speakers at the forum with the theme: "Living Well Together, Tomorrow: The Challenge of Africa's Future Cities," stressed the need to make Nigerian cities more in tune with modernity.
86 immigrants enter Lagos every hour—Ambode
In his speech, Ambode said 86 immigrants enter Lagos every hour.
His words: ''There is perhaps no better classic example of where these challenges of rapid urbanization come to life than in Lagos. It is estimated that 86 immigrants enter Lagos every hour – the highest in any city in the world. And they have no plans to leave.
"This is because Lagos has remained over time and most especially in the last decade, the most attractive destination for those who want to realise and live their Nigerian dream. This ever increasing population of the state, however, means that we have to be on our toes to provide facilities for this more than 23 million population."
Ooni makes case for youths in governance
Speaking on the need for effective leadership in the country, the Ooni of Ife said: "We will not go without celebrating the person we have come here for. We are here to get more enlightened on leadership. For us to properly link the initiative of inclusion, the youths should celebrate themselves.
"I was filled with joy when I saw young people around. Our leaders have got to their peak, and the youths need to be included right from now. I am an example.  Before I came to office, even with all discouragement, a lot of people said the office belongs to the old generation, I never relented. I challenge every youth to be part of the development of the society and Africa at large."
On his part, Utomi said: ''The annual lecture and 2017 programmes will focus on many aspects of the city of the future. They include planning, environment and governance issues derived from how we can live this future beneficially."
The line-up of speakers points in the direction of these issues. As the time for the symposium is limited, one track will not likely feature in the discussions. It is about how the challenged nature of the process of governance in Nigeria will require more play by non-state actors. Today, cities are clearly our future, and how we live well in those cities, in terms of the economics of living quality life, social harmony, security, and wellbeing are matters we must address."