By Imam Imam
If he were to be asked his birthday wish this day in 2015, the then Sokoto State gubernatorial candidate of the All Progressives Congress (APC), Rt. Hon. Aminu Waziri Tambuwal, would have probably prayed for success in the elections he was facing few weeks away. He wouldn't have stopped at that; the Tambuwal I know would have definitely prayed for God's hand in not only winning the election but discharging the responsibilities that come with victory creditably.
I don't know whether somewhere in his mind then whether Tambuwal supplicated to God on these two fundamental issues. But God Almighty has been gracious. Less than 90 days after his 49th birthday, Tambuwal emerged as the Sokoto governor-elect and today, at 51, he has performed so wonderfully that he is celebrated both at home and away.
In steering the state-ship, Tambuwal's major account for success is his recognition, ab initio, of the weight of expectations that come with leadership, especially executive power entrusted on a governor in a state like Sokoto. But most importantly is his realisation, like all great leaders in history, that leadership essentially means taking people where they should be, not necessary where they want to be.
With this clear vision on the expectations and where he wants to see the state under his stewardship, Tambuwal set out to prioritise and articulate this vision into areas of focus.
Refreshingly, he set out to differ by coming up with genuine, insightful and visionary ideas to turn around, not only the day to day course of life, but initiatives that would also alter the face of the society. For Tambuwal, whatever is done is not just another project, it is part of the bold revolutionary interventions that have set his government apart from the pack.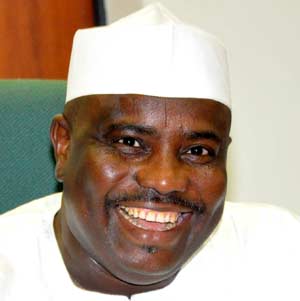 Sokoto, like many a northern state, is often listed among what is termed ELDS; educationally least developed states. This negative ranking is tabulated based on enrolment ratio, the out of school children, school dropouts and other parameters.
A state that is the nucleus of the knowledge-driven Sokoto Caliphate was unfortunately lagging in the area of education, especially for the girl-child. It was therefore revolutionising for Governor Tambuwal to marshal out sweeping policies aimed at turning around the statistics. To this end, the state government announced state of emergency on the education sector. This impressive pronouncement has since been backed by action.
The first of those bold steps was the announcement, early in the day, of enforcement of school enrolment for all eligible children. The government, in attempt to tackle the lethargic attitude of some parents to modern schooling promulgated punishment against parents who refuse to enrol their school-aged children in schools.
The government then went a step further by introducing incentives for parents who enrol their daughters in school, through a conditional cash transfer scheme to enable the parents support their wards through school. Through this carrot and stick approach the state government targeted enrolment of 1.2 million pupils that were hitherto out of school.
Education, in this information age, is the key to the further. The wisest decision, for any leader in this age is to have a holistic and wide-ranging investment in human capital development through education. Here is the Tambuwal model, a model of societal upliftment through the viable investment in its human capital.
By making education the mainstay of his administration, Tambuwal has put Sokoto, once again, on the pathway to greatness. If this noble agenda is pursued diligently, beyond the rhetoric as in many government programmes, then it is safe for one to expect Sokoto to shine among peers in the near future.
The huge attention being received by education in Sokoto under Tambuwal, justified as it is, does not mean that other critical and important sectors are neglected.
Agriculture and healthcare delivery have equally benefitted from Tambuwal's methodical and strategic interventions.
Contrary to the usual practice in Nigeria, Governor Tambuwal went all out since his coming to ensure that all works he inherited have been completed by budgeting huge sums of money for that. The result was the commissioning of the 500-units Kalambaina housing estate by President Muhammadu Buhari in November last year. Another big one in this regard is the coming on board of the 38MW Sokoto State Independent Power Project.
Even by this pigeon-holed look into the stewardship of Sokoto state by Governor Tambuwal it is evident that this true leader of his people is indeed serving the people diligently towards creating a new vista for Sokoto State. The Matawallen Sokoto is poised to making his Sokoto a pride of all Sakkwatawa.
At 51, Tambuwal is unarguably one of Nigeria's most enterprising politicians. His ever-smiling disposition brings forward a happy mien that is intricately infectious. Like his forebears in Sokoto always say, the future tends to be brighter for he who smiles often.
Imam (imamdimam) is the spokesman to Governor Tambuwal.