By Henry Umoru & Joseph Erunke
ABUJA— THE Nigeria Extractive Industries Transparency Initiative, NEITI, yesterday, told the Senate that the Nigeria Petroleum Development Company, NPDC and its parent body, the Nigerian National Petroleum Corporation, NNPC, must be asked to settle a total sum of $4.977 billion owed as liabilities.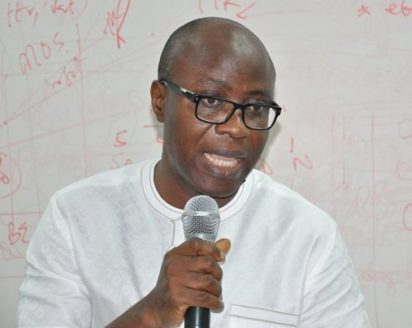 In his presentation, yesterday, at an investigative hearing organised by the Senate joint committees on Petroleum (downstream and upstream) and Finance on alleged unlawful and wilful misappropriation and criminal withholding of public revenues by NNPC and NPDC from 2013 to date, Executive Secretary of NEITI, Mr. Waziri Adio, urged the Senate to prevail on NPDC to settle another N68.2 billion liability.
According to him, the NPDC is a 100 per cent owned subsidiary of the NNPC involved in upstream operations and is currently involved in the operations of three categories of Oil Mining Licenses, adding that some were acquired,  others were transferred fields being operated on behalf of the NNPC by the NPDC.
In its recommendations, NEITI sought the "prompt settlement of all outstanding liabilities by NPDC, including $ 4.977 billion ($3.277+ $1.7 billion) and N 68.2 billion, just as it said the NPDC should, as a matter of urgency, settle the consideration for the divested assets from the Nigerian Agip Oil Company Joint Venture (NAOC JV.)
According to him, "an investigation aimed at unravelling all issues surrounding the transaction involving transfers of the Oil Mining License (OMLs) to NPDC and overdue period taken to remit all liabilities should be initiated by the Federal Government. Federal Government should review the proprietary rights, processes and transactions involving the assignment of OMLs from NAOC JV to NPDC by NNPC."
"Federal Government should review the processes and transactions leading to the assignment of OMLs from SHELL JV to NPDC.  Recovery of all cash call paid to NPDC in respect of the divested assets totaling $148.29 million and N2.42 billion.
"Federal Government to review the proprietary rights, processes and transactions involving the assignment of OMLs from NAOC JV to NPDC by NNPC. NAPIMS and NPDC to provide details of all cash calls paid on divested assets for review. NPDC to provide proper account of lifting and payments to the federation on fields operated on behalf of the federation for which cash calls were made. "
Meanwhile, Chairman, Senate Committee on Petroleum (Upstream) Tayo Alasoadura, after hearing from NEITI admitted that what the agency disclosed was more than what was previously thought of by the Senate.
Alasodura who noted that Nigeria at the moment was looking for money to address some problems, said that  the $4.977 billion unremitted funds by the NNPC and the NPDC was capable of solving the 2016 budget deficit of N3tr.
Alasoadura who is also the Co-Chairman of the Senate Ad-Hoc Committee investigating the alleged non-remittance of over $4.977 billion by the two bodies, said that the amount being investigated was too "huge" to be ignored,  adding that what the committee is investigating is the non remittance of over N3tr.
He said, "Now, the 2016 budget has a deficit of N3tr,  if we had these unremitted funds we probably would not be running a (budget) deficit."
Speaking further, Adio said that the NEITI audits associated with NPDC are broadly categorized into four namely: Arrears of Liabilities of Taxes, Royalties, Levies; Lifting on behalf of the Federation from NPDC operatorship of OPL (49, 51, 20&13; SPDC Joint Ventures and NAOC Joint Ventures, adding "N68.2 billion was outstanding liabilities for PAYE, WHT,EDT,VAT and NDDC Levy while $3.3 billion is the outstanding liabilities for Royalty Oil, Royalty Gas, PPT and Gas Flare Penalty; there were unremitted funds to the Federation by NPDC as at December 31, 2014."
NEITI also called for an investigation aimed at unraveling all issues surrounding the transactions involving transfers of OMLs to NPDC, and overdue period taken to remit all liabilities.