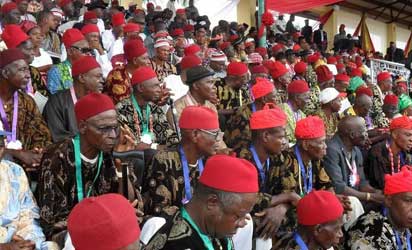 Igbo Chiefs
By Chinonso Alozie
Owerri — THE Founder of Whelan Research Academy, Monsignor Theophilus Okere, has  said that making Igbo language a compulsory course in the general studies in the school curriculum would help in the promotion of the language.
Okere stated this when the group gave an award of "Bright Star of Igbo Language" to Acting Vice Chancellor of Imo state University, Prof. Adaobi Obasi, in Owerri.
It was the monsignor's view that "Igbo language can't go into extinction if heads of the various educational institutions in the zone put up an effective strategy of teaching Igbo language in their schools."
He said the Imo State University could set the example for other institutions to key into the vision of promoting the language.