By Sam Eyoboka and Olayinka Latona
ONE of the most fundamental revelations of the just concluded 19th Holy Ghost Congress of the Redeemed Christian Church of God, RCCG, is that Nigeria as a nation, despite the monumental socio-economic challenges that appear to have defied human solution, is gradually being acknowledged as the headquarters of evangelism albeit church planting and world missions, spearheading the reverse mission.
It is common knowledge that there has been a shift in global Christianity from North to South. Christianity is said to be growing day by day in the continents of Africa, Latin America and Asia, whereas it appears to be declining in the Western world. The expression of Christianity that is growing in these continents is Pentecostalism with its emphasis on healing, miracles, speaking in tongues, focus on the leading of the Holy Spirit and evangelism.
Since the latter part of the 19th Century Africa has witnessed various Pentecostal renewals which have changed the landscape of the whole continent. One of the results of these revivals is that Africans are now exporting the gospel back to Europe and other parts of the world. This reverse in missions has been a recent phenomenon, and has been a fascinating subject for Church Historians, Anthropologists and Religious Scholars.
The world missionary order seems to be changing in favour of the West African nation especially, as more and more gospel preachers from the famed God's Own Country, are daily recognising that God is a Nigerian and that one can only ignore that fact at one's peril.
Thousands of worshippers at the spiritual fiesta tagged Complete Restoration were obviously stunned to hear a top American minister of the gospel who spoke on behalf of all the ministers from North America to the just concluded RCCG's Holy Ghost Congress openly canvassed prayers for divine intervention for his country, the United States of America (USA).
Rev. Carlos Malave, Executive Director, Christian Churches Together, Louisville, Kentucky, USA, bringing greetings to the large crowd of worshippers at the prayer meeting on Friday night, said the USA, contrary to what most Nigerians believe, is in desperate need of prayers, arguing that the iniquities of his country are legion. "My country needs the prayers of all the faithful around the world. My country is in desperate need of the gospel. I urge the Redeemed Christian Church of God please come to America for the complete restoration of our nation."
Continuing, he further appealed to the faithful across the globe to take the plea seriously and "pray for our country that is desperately in need of the gospel more than ever before," noting that disobedience to God, racism, greed and the oppression of the poor have eaten deep into the very fabrics binding the foundations of the US, believing that only prayers can bring about the turnaround the US desperately needs.
"My country needs complete restoration; needs to be made anew like as the day of Pentecost. I beseech you, please pray for my country, the sins of my country are too many," Malavi said.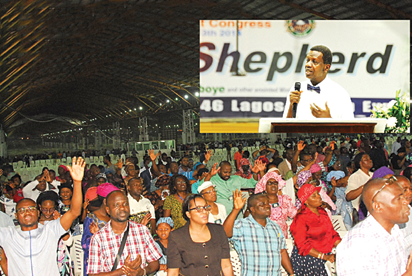 Speaking in the same vein, another apostle from neighbouring Mexico, Apostle (Dr.) Carlos Joaquin Quirora of Good Soil Ministries, one of those who had been praying for church planters to come to Mexico which is in need of spiritual revival, also expressed gratitude for the opportunity to be part of the event. Speaking in Spanish with his son, Pastor Pablo Josie Quirora Revolorio, to interpret, said: "Our Spirit is filled with tremendous joy as we were treated to new methods of praising God through African dance steps. I appeal to you people to come to Mexico and plant churches. We offer very generous conditions for the expansion of the gospel in our country. We need the gospel now."
Expressing similar sentiments recently, American renown televangelist, Rev. Benny Hinn, while preaching at the 2016 Word of Life's Jubilee Word Festival in Warri, Delta State said he was amazed at the phenomenal growth of Christianity in Nigeria that has taken Nigerian preachers to different parts of Europe, US and several other nations of the world.
Besides sermons carefully designed to prepare ground for this year's theme, Complete Restoration which was flagged off on Monday by Pastor Matthew Ashimolowo, the Senior Pastor of Kingsway International Christian Centre (KICC), London, there were several exquisite moments of outstanding high praise in honour of the Lord of complete restoration. It was with that in mind that Pastor Ashimolowo, the son of a soldier man, who was raised in the barracks, spoke about the benefits of thanksgiving in what sounded like a poem of thanksgiving, saying; "if you want your tank to be full you have to be thankful."
The Holy Ghost Congress, yearly packaged as a programme of prayers, salvation, signs, wonders and miracles which suggests spiritual solemnity, spiced with excitement, featured international gospel artistes like South Africa-based Vinesong led by Pastor Johnny Watson who composed a special song for the programme titled, 'Complete Restoration', the Redeemed Quartet, RCCG Mass Choir and several choirs drawn from different regions of the church. They thrilled the participants daily to high sounding scintillating gospel songs that kept the audience on their feet most of the time to the public acclaim of the coach, Pastor Enoch Adeboye.
Popular notions about the term 'gospel' tend to limit it to the message of how one may receive eternal life through faith in Christ, but it is much broader than that and the Congress demonstrated that as several special Talks and Discussion sessions designed to uplift the living standards of participants at the Congress. There were several talks by experts on various topics in different disciplines including: "Sustaining the personal hygiene culture for healthy living; Affordable diet for good health; Identifying and utilizing business opportunities in the prevailing economy, Making the right investment choices; Sustaining profitability in an unstable economy; SMEs: Exploring potentials for the export market; and Wise choices for business sustenance.
In one of such talk shops, a medical practitioner and a minister in the Redeemed Christian Church of God RCCG, Dr. Adetoro Sokoya called on parents to make it a duty to educate their children about sex early and build Godly characters in them. Explaining that pornography represents a significant and growing menace to families, individuals, church of God and the nation, she urged families to monitor usage of their home computers and children's cell phones to reduce or prevent exposure to pornographic media, noting that if parents do not teach their children about sex, they will learn about it from somewhere else which she said always have negative consequences.
Also speaking on: "Managing family finances in a depressed economy," Pastor Bisi Adewale said recession is simply when economy declines significantly for at least six months, noting that Nigerian government just admitted its existence officially. Recession can be defined as a famine which is first mentioned in the Bible in Genesis 45:6.
He outlined five kinds of recession which include: Global recession: Almost immediately, after the Second World War, the whole world was swimming in recession. Luke 4:25. National recession: African countries have refused to announce recession. Greece was in recession for three years. Venezuela was once in recession. USA, about two years ago was struggling in recession.
Family recession: When a particular household is no longer able to pay bills e.g house rent etc. Genesis 42:33. Personal recession: This is actually the foundation of family recession e.g when a man loses his job. Psalm 33:19; and Recession of the word and wisdom of God: A man is yet broke even when he earns a fat income.Pastor Adewale outlined four ways to get families out of recession to include: Mind programming, i.e to reprogram our mind in line with Proverbs 4:23, irrespective of one's income, one can be rich; Close the backdoor of family finance. Proverbs 21:20. Stop wasting money on non-essentials; Build a better marriage and stand in unity. Bad marriage is expensive such as adultery; and Trust God as if you don't need to work hard and vice versa.
A Microbiology graduate from the Obafemi Awolowo University, Ile-Ife and the Group Managing Director of Ogunmod Farms located in Ile-Ogbo, Osun State and in Ibadan, Oyo State, Mr. Pelumi Salas Aribisala, who spoke on "Cassava farming for industrial use and export", said the initial picture painted by Nigerians portrayed farming as a vocation exclusively for the dregs of the society and mostly poor old men and women with grey hair and torn clothes. Agriculture, according to him, especially cassava farming has moved to a new level.
"Six out of every 10 households consume cassava and yet we have treated cassava farming with levity. Nigeria is the largest producer of cassava as it produces 46 million tones per cultivation. Out of the 46 million tonnes Nigeria produces, we consume 37 million tonnes and export nine million tonnes out of the 37 million tonnes cassava products consumed, 75 per cent of which is consumed as garri," he stated.
Aribisala took time to outline several products derivable from cassava to include: Cassava starch, which can also be exported; Cassava chips or pellets, which is also known as dried cassava and can be preserved for a longer period of time and it is in huge demand both nationally and internationally. It's usually exported in big containers; Cassava flour. It is healthier and safer; Ethanol production. It can be used in the formation of fuel e.g strong alcohol drinks; as well as Glucose syrup. This is another very much important product. It can lead to hunger crisis if not in production. For about six years ago, "we beg people to buy a tonne of cassava for N6,000 but now, a tonne of cassava is sold for N99,000."
The highpoint of the 6-day Holy Ghost Congress was when the General Overseer of the church, Pastor Adeboye made some frightening declarations, saying; "I once asked God to kill me" alluding to a period when "Nigeria was living under a siege". According to him, "there was a reign of terror" in the country until "the man" behind the terror reign was ousted.