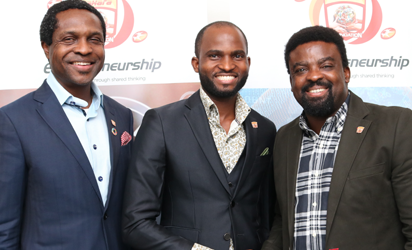 Executive Director/Co-founder, Sahara Group, Tonye Cole (left), Winner, 'Sahara Group's Grooming Film Extrapreneurs Competition', Joseph Duke and Ace Movie Producer/Director, Kunle Afolayan at the unveiling of winner of the competition which was designed to identify and empower the next generation of film makers in Nigeria…today in Ikoyi, Lagos
The foundation for the next success stories in Nigeria's film industry was laid today as Sahara Group announced Joseph Duke as the winner of its 'Grooming Film Extraprenuers with Kunle Afolayan' project. Duke won with a documentary entitled 'Give Us This Day'.
Duke's documentary, which beat entries from 20 finalists, highlighted the challenges faced by entrepreneurs, including a story about caring for special needs children. More than 150 entries were received in the competition which began in June 2016 following the partnership between Sahara Group and the award winning filmmaker Kunle Afolayan, designed to identify and empower young film makers in Nigeria.
Chinenye Balogun and Alabi Kayode emerged first and second runners up respectively, with entries that showcased the creativity and resilience of Nigerian entrepreneurs.
The overall winner will undertake a six month internship with Kunle Afolayan, while all the three top finalists will attend the 2017 Cannes Film Festival in Cannes, France with the support of Sahara Group.
The competition also attracted entries from outside Nigeria. Two of such entries stood out. They include: Daniel Ecwalu (Trash Cash – story based on taking children off the streets and empowering them) from Uganda and Akshay Makar (Climatenza – The happenings of Climate Change).
While announcing the winners, Tonye Cole, Group Executive Director, Sahara Group, congratulated all the 20 finalists for rising up to the challenge of taking their craft to the next level.
"You are lucky your generation has this kind of opportunity which Kunle Afolayan and I never had. When you get this kind of opportunity you take it seriously. At Sahara we are willing to go the extra mile to take entrepreneurship to a different level. That is why we created the Extrapreneurship platform to facilitate a meeting point for talent and opportunity. We believe you have the potential to be the best in the sector as well as change the narrative of Nigeria and the entire continent through your films," he said.
Cole further explained that the competition is part of Sahara Group's contribution to the development and growth of the Nigerian economy. He said the 20 finalists will be inducted into Sahara Group's extrapreneurship hub where young entrepreneurs can access support to nurse their dreams to fruition.
Foremost film maker, Kunle Afolayan, who led the screening of the entries, said he was impressed by the documentaries. He said entries were assessed based on sound, lighting, production design and quality.
"I feel privileged to have seen all the documentaries," he said, adding: "I believe you all have the potential to do even much more. You are the next big success stories we expect to emerge from Nigeria. There are a few things I observed. I saw a common trend in the entries where you all concentrated on telling stories which is common in Nollywood. However, there are certain elements that are vital achieving success in film making. What is very important is the production value. If your production value is poor your story will never fly no matter how good it is."
Describing his success as a "pleasant surprise", Duke said: I am very happy to have won the competition. I wasn't expecting this at all. I am grateful to Sahara Group for the opportunity. I look forward to working with Kunle Afolayan."
The competition challenged young Nigerian film makers to capture the spirit of entrepreneurship in Nigeria in a Docu-Film with the theme 'My Nigeria, My Platform…Nigeria through an entrepreneur's eyes'.
Sahara Group hopes to reach over 12 million youths via its Extrapreneurship Hub that will drive integrated economic empowerment programmes through strategic partnerships and support for innovative as well as scalable business ventures.