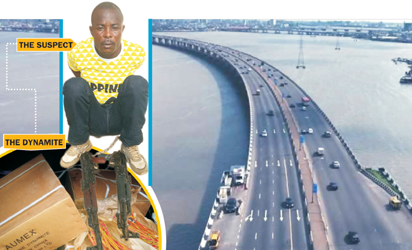 Abiodun Amos (left), arrested over plans to blow up Third Mainland Bridge, in Lagos.
By Evelyn Usman, Dapo Akinrefon and  Ifeanyi Okolie
LAGOS — One of the leaders of  a notorious militant group operating in Ikorodu and Arepo areas of Lagos and Ogun states, Abiodun Amos, said yesterday, that his group planned to bomb the Third Mainland Bridge in Lagos because the Federal Government failed to consider its members for amnesty.
The group had planned to bomb the bridge end of last month before Amos' arrest by the Inspector-General of Police Special Intelligence Response Team, led by Abba Kyari, an Assistant Commissioner of Police, frustrated its efforts.
"We went into bank robberies and kidnapping because we wanted to get government's attention and all we wanted was for them to grant us amnesty and also offer us pipeline protection contract.
''We have made several appeals but government is not listening to us.
''General" Ossy (leader of the gang) said if we don't blow up the Third Mainland Bridge, government will not listen to us. We had concluded plans to carry out the attack by November ending.
''I am the group's explosives expert and before I was arrested we were going into the creeks to conclude plans on how to carry out the attack."
The suspect, also popularly known as Senti, said his group was hitherto involved in pipeline vandalism, noting that it resorted to kidnapping when it became difficult for its members to continue with the illegal business due to the presence of the military and policemen.
The suspect is a 43-year-old native of  Arogbo, in Ese-Odo Local Government Area of Ondo State.
He was arrested by operatives of the Inspector General of Police Special Intelligence Response Team, IRT, at a river bank in Majidun area of Ikorodu, Lagos, on Monday.
Two  AK-47 rifles hidden inside a bag were found with the 43-year-old suspect as Vanguard reliably gathered that additional two cartons of explosives, with the words Gelatine Dynamite inscribed on them, and detonators, were recovered from the group's operational saloon car.
Amos' arrest, it was gathered, followed intelligence generated by office of the National Security Adviser to the President, NSA, on November 2, 2016, that the group had concluded plans to blow up the Third Mainland Bridge.
Vanguard gathered that the information was passed on to the Inspector-General of Police, Mr Ibrahim Idris, who subsequently directed his IRT to commence investigation into the matter.
During investigation by the team, it was revealed that the militants had acquired a large quantity of dynamite and several other explosives with which to carry out the dastardly act.
Recall that the group in October 2016  carried out secret illegal operations like pipeline vandalism, kidnapping and bank robberies and had demanded for amnesty, threatening to disrupt economic activities within Lagos and Ogun states if the Federal Government didn't grant their request.
Suspected leader of the militant group, General Ossy (real names not known), had in recent times, allegedly coordinated many bank robberies and several high-profile kidnappings, including the kidnap of  three school girls at  Babington Macaulay Junior Seminary School in Ikorodu; kidnap of four landlords at Isheri North Area of Lagos; abduction of  Oniba of Ibaland, Oba Goriola Oseni, among several others within Lagos and Ogun state s.
'General' Ossy had  boasted in an interview with Vanguard that his group has over 21 'generals' commanding 7,800 battle-ready boys, adding that the group is rich enough to fight the Federal Government, having acquired thousands of arms and ammunition similar to that of the military.
He said the arms would be deployed to disrupt economic activities within Lagos and Ogun states, should the Federal Government fail to dialogue with the group and grant its wish.
Confirming the development, Force Public Relations Officer, Don Awunah, a deputy Commissioner of Police, DCP, said:  "Yes, an individual was arrested. On sighting the policemen, the second suspect jumped out of his car and escaped into the bush, abandoning the operational vehicle.
''On searching the vehicle, two cartons  of Gelatine dynamite explosives and hundreds of detonators were recovered in the boot of the car. Efforts to arrest the remaining gang members are  in progress."
It's pure insanity — Afenifere
Reacting to the development, Pan-Yoruba socio-political organisation, Afenifere, described the move as insane.
Its National Publicity Secretary, Yinka Odumakin, said: "It is insane for anybody to hatch such a satanic plot. To what end and in reaction to what?
''It is good they have been arrested .They should be properly investigated for us to know what their motive was and their likely backers."
Lagos PDP reacts
In its reaction, the Peoples Democratic Party, PDP, in Lagos State, called on the state government to up its security to reduce crime rate.
Its publicity Secretary, Mr Gani Taofik, said:  "Such a plan is evil and can't be defended. It must be further verified to remove any doubt and if a proper fact check confirms it, those arrested must be made to face the full weight of the law.
''This is to now put the Lagos State government on alert to up its security. The APC government must address the economic and social injustice to reduce these angry reactions which ordinary citizens now suffer. Taking over Sambisa may now be a fluke as the Boko Haram may strategically leave there with no loss, into the cities.