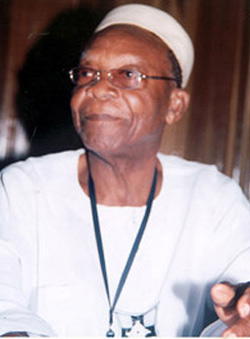 *Joe Achuzia
By Chinonso Alozie, Owerri
General Joe Achuzie (Rtd) one of the Biafran war lords Thursday, said, the struggle for the actualization of Biafra was not for "freedom" but to assert the identity of the Biafran people in Nigeria.
He made this statement in Owerri while in a meeting with the members of Bilie Human Rights Initiatives in Imo state.
It was his view that the Nigeria government has interfered with the civil rights of the people of Biafra. A situation, he condemned and asked that freedom of the people of Biafra was the answer.
Achuzie said, "We are in court to challenge Nigeria to stop interfering with our civil rights. The rights of people knowing themselves and where they come from."
"No freedom comes on a plater of gold you must fight for it but you must have the proper facility. We are not fighting for Biafra freedom, the freedom will come when it must. We are fighting for our identity."
He continued, " We are only one group looking for Biafra identity. We are facing war. I will not allow this group to be divided. Biafra is one and will always remain one."
"Biafra is our identity. I am regarded as a Nigeria but by what has kept me alive, I am a Biafran, he added that,"As far as I am concerned if it is the war between Nigeria and Biafra, I have no remorse."