By Gbenga Oke
All Progressives Congress, APC, in Rivers State, yesterday described the statement credited to the state Peoples Democratic Party, PDP, that the party planned to use federal might to arrest PDP members ahead of next month's re-run elections as not only laughable but deceitful.
APC contended that the allegation by the PDP was its ploy to provide cover for the alleged project of planting incriminating materials in the homes and offices of notable APC members.
In a statement by its spokesperson, Chris Finebone, APC said: "We consider the statement by the PDP Chairman as a revised strategy by the PDP to provide cover for their ongoing project of planting incriminating materials in homes and offices belonging to notable APC leaders in Rivers State and have them incarcerated with the connivance of hired security officers as was done in the botched matter concerning No. 12, Isiokpo Street D/Line, Port Harcourt, recently.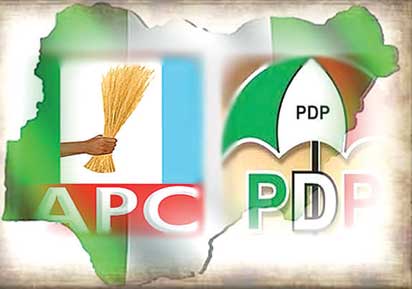 It is indeed very clear that having bungled its attempt to rope in a notable APC chieftain, Mr. Emma Chinda and others, in a purported printing of Independent National Electoral Commission, INEC, materials which was planned, executed and orchestrated by the PDP.  The latest accusation that APC is planning the arrest of PDP members is only a clever-by-half strategy to create a façade for the Gestapo-style project of the PDP which recently suffered a setback.
"Having decided to continue with their evil machinations, the PDP and Governor Wike are now raising the accusation of possible arrest of their members in anticipation that their plans may suffer further setbacks which may result in some of their members directly driving the project to be arrested by eagle-eyed security agents who may have put them under security watch after their first bungled attempt.
It is very difficult for the APC to help the governor and his party over their looming electoral resounding defeat by Abe and Mpigi on December 10 or any other date. Governor Wike and his party must deal with their indwelling fear by themselves and leave APC alone."
However, reacting, the Rivers PDP called on President Muhammadu Buhari to call his Minister, Rotimi Amaechi, Senator Magnus Abe and Dr. Dakuku Peterside to order ahead of the re-run elections, alleging that the actions and statements of the trio were likely to cause a breach of public peace in the state.
PDP, in a statement by Jerry Needam, Special Adviser on Media and Publicity to its Chairman, Felix Obuah, said: "We want President Muhammadu Buhari to call Amaechi, Peterside and Abe to order to avoid a breach of public peace in the state which is likely to affect the entire national political landscape.
These three men are carrying on as though they are above the law, perhaps, because of their link with the powers that be at the federal level of which they boldly boast everywhere they go. All these inciting actions and comments must stop because no one has a monopoly of violence."