..To Be Completed in 12 Months.
By Demola Akinyemi
ILORIN-Governor Abdulfatah Ahmed of kwara state has performed a ground breaking foundation ceremony of computer ICT hub at the cost of N500M,which will be completed in the next twelve months.
The Harmony hub(Computer village), being constructed by Harmony Holdings, is beside Nimatoni events centre,directly opposite Circular hotel around unity area,in the heart of ilorin,the state capital.
Governor Ahmed at the ceremony noted that,"The computer village is 2-storey, elegant and sophisticated edifice, aesthetically designed and strategically situated here in the commercial nerve center of Ilorin."
"The project will stand on 4,600 square meters of land and has a completion period of eleven months. The Computer Village, which is estimated to cost N500m, will be funded through contractor financing as well as pre-sales/off-taker arrangements."he added.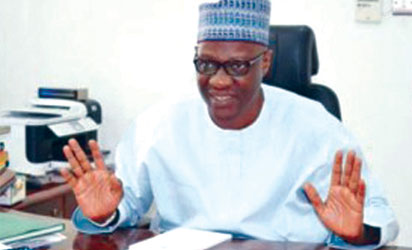 The governor also said that,"the facility demonstrates our administration's determination to be a forerunner in the technology and digital economy.",stressing that,"The project also announces Kwara State as the potential largest technology hub in Nigeria, outside Lagos State."
He added that,"Through projects such as this Computer Village, and the International Vocational and Technical Centre, Ajase Ipo, therefore, we are establishing platforms for the skills and entrepreneurship necessary for productively engaging our youths."
The governor also expressed excitement that," this Computer Village will directly employ about 600 youths when fully operational apart from the hundreds of indirect jobs that will be created in the process on its construction."
"Apart from improving the aesthetics of our environment through convergence of ICT players, the Computer Village will also provide IT practitioners a platform to showcase their products to a wider audience."he stressed.
Earlier in his address, the Group Managing Director of Harmony Holdings,Mr Tope Daramola,noted that,"The computer hub is intended to reorganise the way IT business is done in Kwara State.",stressing that,"it is an opportunity for both those selling computers and its accessories as well as for investors who can rent out their spaces to businesses."
‎He also said that,"On completion the edifice will not just be a market for genuine software and hardware only, but where you can find bargains on computer and related products."
He added that,"the investments will make the state capital conducive for business and we believe the computer village will also thrive and serve as technology hub for the whole of North Central Nigeria"