ONE thing about sinking your teeth into the forbidden fruit is you never knew when to stop. It is a fearful prospect. You are married, probably with a few kids. The love-of-your-life is no longer as starry-eyed about you as he used to be. He has other irons in the fire. How to keep his family on the bread-line, how to hold down his highly competitive job.
On top of which there are a few temptations he just couldn't resist himself. You are bored. Apart from the excitement of getting dressed for the office, there is virtually nothing to tickle your fancy when you get home. Hubby is scarcely there and when he eventually shows, he bolts down his dinner, makes a play of showing interest in what the kids were up to during the day, then crawls into bed, snoring his head off in minutes!
At least this was the situation that Tina found herself some months back. Then she dropped her bombshell: "I've met up with my ex," she said excitedly, her eyes sparkling, "and we've had awesome sex, twice now!" Just like that? "I get so much romance and affection from him than the man I ended up marrying" she defended herself. Just turned 40, her husband is two years older. They'd been married for 14 years and have three children.
"I hooked up with my ex through Facebook," she went on with this forbidden- fruit story. "He also has three children but has never been married. His kids live with their mothers so it was easy to meet up at his flat. The first time I stepped foot in the flat, my heart was pounding, I'd never been unfaithful before and there was this fear I might get caught.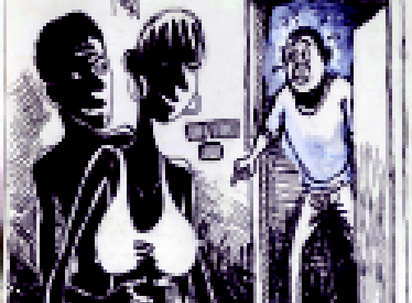 My ex didn't look much different after all these years and as soon as I sailed through the door, he made a grab for me, kissing me passionately. The past years ceased to exist. It was magical as I was transported back to the days when we couldn't get enough of each other. Ignoring the drinks and snacks he had ready on the dining table, we just went for the sex – and it was as good as ever.
"I would have married him if I hadn't met my husband. I chose my husband because I knew he would be a better provider. I didn't particularly love him, but I have grown to. You may say it is just lust with my ex but I feel a connection with him and I want to be like a wife to him. I wish we'd never broken up.
My husband works long hours and he doesn't give spontaneous sex like my ex. He's not even romantic. My ex is still not financially well off, so there's no way I would leave my husband for him. But I crave a man who shares romantic moments with me and my ex does. I just might juggle the two of them so I get financial security with my husband and hot sex with my ex!"
How naive can you get? Unfortunately, when a woman gets so much hot ants in her pants, counselling her is a waste of time until she burns her fingers. The normal ups and downs of married life had obviously led her to idealise an ex who gave her a very exciting break from her dull marriage. Tina knew on which side her bread was buttered.
If she left her husband for her ex, she would soon realise that life on the breadline could be really frustrating – especially with her kids and his. Has she tried talking to her workaholic of a husband? She didn't give me a convincing answer. She was still high on her new found ex!
When I next saw her, she still had the glow. "I feel like Jezebel!", she confided. Now what?! "My husband must have suspected I was up to no good when I was no longer interested in luring him to bed. If he wanted sex, it was on my mood – and most times, I told him I was tired. He'd played that game a few times himself. Let's see how he liked it! One evening, after I'd had a particularly hot session with my ex, I hurried home and couldn't have a wash before my husband showed up.
"It was obvious he wanted sex. Well, let him stew in his own juice,' I wasted a lot of time coming to the bedroom convinced he would be snoring his head off. But he wasn't. He was making a pretence of reading the dailies. I got into bed and pretended to be really tired. He was having none of it as he began with his predictably crude love-play.
When I protested we should wait till next day, he was adamant. I'd postponed about thrice now, he grumbled, and before I knew it, he'd yanked up my nightdress and had his head between my thighs. Oh my goodness, I thought, alarmed. I'd just made love with another
man and there was my husband giving me a blow job? Did he suspect anything?
Obviously he didn't and I had to do my best to give him the type of sex he craved … "
She actually felt a bit contrite by what happened. Just how long did she think she could go on with this charade? I urged her not to settle for things the way they were at home. Instead of'turning to an ex who's had three children by two women and had never married, she should try and turn her husband into her lover.
Tough as it may sound, she should stop seeing her ex so she could give her husband a chance. He needs to know there is a crisis in their marriage and they both need to work to save it. Tina just shrugged. She's tried but would her husband listen?
I know it's a matter of time before she comes down her euphoric state with a thud! Maybe when her previous irresponsible ex finds a new play thing or when one of the mothers-on-his-children comes calling. When that eventually happens, she'll get nothing but I-told-you-so from me!