*as power sector liquidity deficit may hit N809bn by year end
*2.7 million electricity consumers yet to get pre-paid metres
By Ediri Ejoh & Gabriel Ewepu
THE Association of Nigerian   Electricity Distributors, ANED, yesterday refuted reports of moves to increase electricity tariff by 200 per cent.  Chief Executive Officer,ANED, Azu Obiaya, told Vanguard that with the present economic recession it will be unreasonable for the Distribution Companies (DISCOs) to increase electricity tariff.
This came as the association lamented a continued rise in liquidity deficit which may hit N809.8billion by end of this year, against N383.2 billion recorded in December 2015.
Addressing what it termed false  speculation on tariff hike, Obiaya said: "I did not say we are going to increase the tariff 200 per cent but what I said was because of the changes that have occurred, recently inflation has gone up, the Naira has been devalued for almost three times, the gas pipeline vandalisation have resulted in drop of power generation. And we have not written such letter on tariff increase to Nigerian Electricity Regulatory Commission, NERC.
Electricity consumption
"There has to be recognition of something we all have to partner on. We don't believe any reasonable person at this time will ask the consumers to pay more in terms of electricity consumption given the recession. "So since there are only two parties who meet their obligations to electricity supplied, government or the consumers, we believe the government needs to step in now and vigorously play a role. "The minor review typically occurs in June by every six months, so the process of the minor review has been ongoing but it is moving into its completion. The other issues of shortfalls of cash reflective tariff have been out there.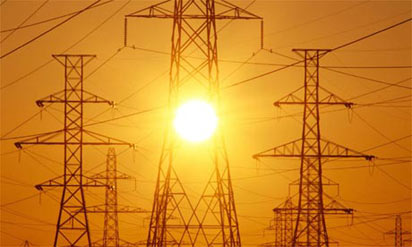 "There is the need for the increased cost of electricity production, and there is the need for the increased cost to be addressed. It will reduce the tariff cost reflective, the entire value chain from revenue shortfalls now. And the cost of power now is at N1.00 per kilowatt per hour, but the industry is collecting only 60 kobo per kilowatt hour, there is a difference of 40 kobo that need to be addressed."
He also urged the government to step in with sustainable measures to rescue Discos out of the current challenges they find themselves in providing electricity services to consumers in the country. According to him ANED do not believe that the tariff has been cost reflective, because the current MYTO 2015 assumption was N194 to the Dollar, which currently at Central Bank of Nigeria, CBN's rate has been N364 to the Dollar, and inflation was nine per cent, current at 17.9 per cent.
While the generation assumption under this new tariff supposed to be over 5000 megawatts, but currently averaging 3500 to 4000 megawatts. In addition, he said ANED have accumulated N53 billion of MDA's debt, which has remained unpaid for by the government, and as a result of all of these issues the association owes the GENCOs.
Positive development
He further stated that with addition of the post-privatisation N53bn debt to that which was owed prior to the handover MDAs' debt amounts to N93bn in June 2016. On payment of MDAs' debt by the government he said, "The government said they are working on something which the Minister said it will be paid before the end of the year (2016), but nothing concrete in that direction."
Liquidity: Meanwhile, despite recent positive development in the power supply across the country, succour may be far yet to come as operators have indicated that debts is still rising and may hit N809.8billion by end of this year. The figure was N383.2 billion as at December 2015. Minister of Power, Babatude Fashola and Nigeria Electricity Regulatory Commission, NERC, have recently lamented the huge liquidity deficit in the power sector, which according to them, is halting smooth operations in the sector.
Also speaking to Vanguard in a telephone interview, Executive Director, Research and Advocacy of the Association, Mr Sunday Oduntan, explained that the liquidity deficit in the sector is increasing speedily, making it difficult for them to meet its metering targets and other regulatory obligation.
His words: "The challenges hindering development in the power sector remains liquidity which is way higher than envisaged. "You cannot talk about metering without talking about the liquidity issues we have in the sector currently.
According to him the industry has MDA debts of over N100 billion while total liquidity deficit in the power sector which was N383.2 billion as at the end of December 2015, will be will be up to N809.8billion by end of this year if this situation continues. "All these challenges are impediment to procuring meters for customers in the country."
On metering: He noted that the distribution companies had at the moment metered over 3.3million customers and is left with about 2.7 million customers that are yet to be metered. "We have metered 3.3million customers and those not metered are about 2.7 million. The number is increasing anyway. What we are working on is aggressive metering system."
Lamenting on other challenges bedeviling the sector and what should be done to address them, Odutan called on the Federal Government to reverse the ban placed on bonds issuance by the power sector. According to him, "there is challenge in acquiring foreign exchange.
When we bought these assets, the dollar was trading at N197 to a dollar, but the situation has changed today, as a dollar cannot be gotten at N350 in the market neither will you see it for N400. "That is why the Federal Government should as a matter of urgency look into bringing back the bonds that was rejected at the National Assembly." Odutan also raised alarm on the high level of meter by-pass across the country, calling on customers to put a stop to such illegal activities as it threatens operations of the DISCOs.
Corroborating this position, distribution companies in Lagos State, Ikeja Electric Plc and Eko Electricity Distribution Company, appealed to customers to desist from meter by-pass as it plans to meet demands to install the pre-paid meters to all customers within its network.
Also, speaking, to Vanguard, General Manager, Communications, Eko Electricity Distribution Company, EKEDC, Godwin Idemudia, said that it losses huge revenues to bye-passers of pre-paid meters.
He stated: " We are aware of the hard times in the country, but this will not be over in some sectors continues to be cheated. The power supplied to you is not free as we pay for them to get to us so we could service our customers.
"We are also aware that electricity supply has improved tremendously from what was five months ago, and as such should be paid for, so we could have more to give out and meet your demands on un-interrupted power supply which we are all striving to attain."