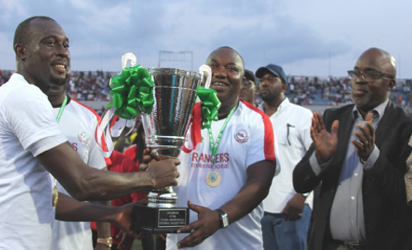 On Sunday October 2 , 2016, Nigerians saw what they had not seen in more than a generation in Nigeria's local football scene: the last day of the Nigerian Professional Football League (NPFL) ended on a triumphant note that got the Shehu Dikko-led Nigerian Professional League Management Company (LMC) applauded across the nation.
On that day, the Nnamdi Azikiwe Stadium, Enugu, the venue of the title decider between Enugu Rangers and El Kanemi Warriors of Maiduguri, was filled to capacity. The same was reported in the Agege Stadium, Lagos, where the local team, Mountain of Fire Ministries (MFM) Football Club (which was fighting to escape relegation) and continental ticket aspirants, Ifeanyi Ubah FC of Nnewi clashed, with the venue filled to overflowing. Similar reports came from many other venues around the country.
Only a few years ago, the venues of our national league matches were like ghost towns, even when the gates were thrown open for all comers. The fans were simply no longer interested. This was because the level of organisation, officiating and the general standard of football management by the Nigerian Football Federation (NFF) left so much to be desired. As a result, Nigeria's standing on the continent and the world at large plunged, and this was evident in the periodic FIFA ratings.
Nigerian soccer lovers exported their love to Europe, especially England, Spain and Italy, where they adopted football clubs as their own and invested so much emotional capital. Meanwhile, back home, our league was no longer able to feed our national teams with new talents and Nigeria could no longer boast of exceptional players, even among those playing professional football abroad.
But the situation gradually changed when the NFF, in partnership with the owners of the participating clubs in the Nigerian league, formed the LMC as from 2012. A number of far-reaching reforms based on the business model were put in place by the LMC, then led by Mr Nduka Irabor. Shehu Dikko, who took over from Irabor, has continued to move our football forward, and today, things have dramatically changed.
The violence that used to await visiting teams has been reduced to a minimum, and away teams now regularly win matches. Match officiating has improved, so is the standard of our league, which is now ranked as the best in Africa. In fact, night football now features regularly in Lagos and Enugu, with more venues to follow suit in the next season.
We join the NFF and the generality of appreciative Nigerians to commend the LMC and urge it not to relent until the private sector, both local and foreign, bring in their money to enrich our league and take our football to the height where it rightly belongs.