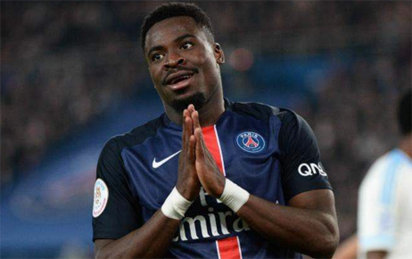 Serge Aurier
Controversial Paris Saint-Germain full-back Serge Aurier is under investigation by FIFA after making a throat slitting gesture duing a World Cup qualifier last weekend.
Ivory Coast international Aurier celebrated a goal against Mali by turning to the crowd and dragging his finger across his throat.
"A preliminary investigation is underway," football's world governing body told AFP on Thursday.
The tough 23-year-old made the hand gesture after his cross was inadvertently turned into his own net by Mali's Salif Coulibaly to give the Ivory Coast a 2-1 lead in Bouake before they went on to win the match 3-1.
Although he came under fire in some quarters on social media, Aurier was the subject of some rare positive attention on Wednesday.
Mali coach Alain Giresse praised the player Wednesday in a French radio interview, claiming Aurier's quick-thinking had helped save Malian Moussa Doumbia's life as the unconscious player was in danger of swallowing his tongue.
"Serge Aurier, along with one of our players, had the presence of mind to quickly put him (Doumbia) on his side and to use his hand to pull his tongue out as he was dying," Giresse told RMC.
"It was incredible from Aurier. I spoke to him afterwards and I even thanked him for his cool head."
The FIFA probe, however, is the latest in a series of incidents involving the talented right-back.
Shocking comments on social media about his then-PSG coach Laurent Blanc and current Manchester United star Zlatan Ibrahimovic saw him sidelined from the team for six weeks last season.
Last month he was sentenced to two months in prison for assaulting a police officer in May outside a Paris nightclub — although in France such short sentences are automatically commuted.