By Louis Odion
Ordinarily, the choice before Edo voters on September 10 should not pose a burden heavier than the simple ceremony of sieving the grain from the chaff. The contention is between the All Progressives Congress, APC and the Peoples Democratic Party, PDP.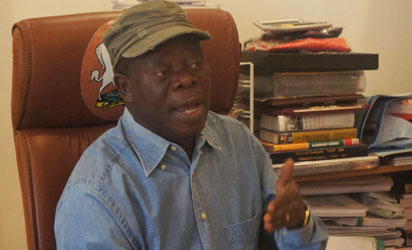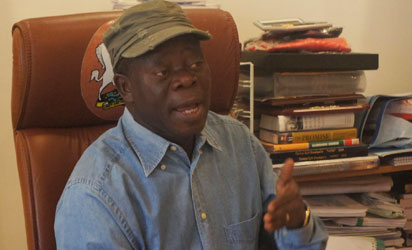 Looking back, where as the majority of Edo people will ascribe to APC under Comrade Adams Oshiomhole plaudits for improving the human condition appreciably with a surfeit of monuments across the state as further proofs, PDP's testimonial is hideously scanty besides the cultivation of a small oligarchy whose hierarchs have either successfully completed jail term for colossal looting or are today luxuriating in obscene wealth amassed solely through the grace of Tuketuke politics.
Based on these verifiable facts, it will not be out of place to submit therefore that PDP is already too morally fractured, facially disfigured to stand a chance in the coming election. But drawing the curtains on the debate there so summarily would rob distant observers the opportunity to fully understand the shape and nature of the real forces now at play, ferociously angling for Edo's political soul. It is actually a titanic battle between defenders of a movement that boasts of delivering something to the society regardless of its own imperfections and the barons of a discredited past plotting a return to power.
The historic challenge before the intelligentsia today therefore is to help bring some illumination that the people can make informed choice in the leadership recruitment process. For clarity, yours sincerely does not only hail from that section of the country but also privileged to have served as a commissioner in Edo until one's resignation last November. During the period, one gained sufficient insight as well as had one-on-one interactions with the key players across the divides.
So, as a writer, one is not shy to admit one has a professional interest, and as a native a civic responsibility to share one's perspective for Edo's advancement.
True, no one will say incumbent Adams Oshiomhole is perfect. All known angels will be found in heaven. To me, whatever personal inadequacies the Comrade Governor may have pale into insignificance considering the weight and value of his contributions in the past eight years. Really, it is impossible to change society without making some enemies. The tale of transformed physical landscape under his watch is now all too familiar to warrant a recap here.
This leads us to the next question: so who is better equipped among the gladiators on the field to extend the frontiers? From all the candidates have said, shown or promised in the last three months of campaigns, I make bold to say Godwin Obaseki represents the best hope for Edo tomorrow. For the four years I spent in government in Edo, I happened to have interacted closely with him.
To be sure, he is not as gifted as Oshiomhole in terms of oratory. He is decidedly a man of short speech whose few words however carry deep intellection and almost evangelical zeal to follow through ideas from conception, incubation, implementation to evaluation in an otherwise treacherous environment where most people view tasks only from the naira and kobo that comes back to their pockets.
In these economically perilous times, Edo surely needs a conscientious steward who can think and act on his feet to chart a new course, irrevocably committed to working for the poor and not the coven of famished godfathers feverishly seeking to regain a paradise already lost.
To sustain the hero-worship of the godfather, Tuketuke politics abhors men of ideas or intelligence or other evidence of demonstrable independence of the mind. In the new world otherwise driven by big ideas, the only skills required in Tuketuke politics are not more than rigging, seamlessly sharing bribes and bottles of Schnapps gin on election's eve and maybe suborning of the most pathetic species of the media running dogs, eager to plant articles praising the godfather in the newspapers but too ashamed to affix their real names on such panegyric.
One can therefore relate with Obaseki's promise to create 200,000 fresh jobs. The bouquet of durable social infrastructure – including more than 1,000 kilometers of roads – delivered by Oshiomhole in the past eight years already offers a solid foundation to build on. Vast opportunities surely abound in the agriculture sector where the state has comparative advantage. The big mechanized farms will accelerate urbanization of our rural communities, particularly in Edo South, thereby helping to curb rural-urban drift.
Requiring sustenance is the land reforms started by Oshiomhole which has removed swathes of land from the control of old political godfathers who only use same to secure personal bank loans or sublet to tenants. Genuine agro entrepreneurs who benefit will certainly deliver more jobs.
Only last Monday, Pat Utomi, the renowned professor of Political Economy, flagged off a $136m farm project located at Ugbokun Community in Ovia North East in Edo. This will deliver thousands of fresh jobs. It is perhaps instructive that Utomi hails from neighbouring Delta State. In choosing Edo to locate such gigantic industry, the discerning intellectual must have noted Edo's comparative advantage.
Apart from Utomi's Integrated Produce City, there are no fewer than a dozen other mega agro-allied companies including the $750m farm promoted by Idahosa Okunbo that have either taken off or nearing completion stage under an investment-friendly climate Oshiomhole has created in the last eight years. Really, these are the terms Edo's economy of the future should be discussed, not fantasizing over the new "sharing formula" likely to be approved by the godfather for the state's next monthly allocation from Abuja as suggested by the incoherent economic agenda so far touted by PDP – high on utopian promises but short on how-to.
The culture of predation perfected by PDP also explains why whereas state-owned TV/radio station, the EBS, withered during PDP's reign, Igbinedion's ITV prospered. And while state-owned Ambrose Ali University floundered, Igbinedion University in Okada flowered.
Well, the aforementioned illustrations are provided today to assist Edo people connect the dots and realize where the rain began to beat them.