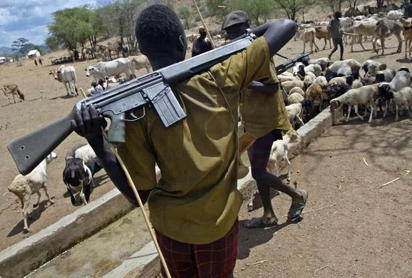 Armed herdsmen
*Vows to ensure prosecution of herdsman nabbed with AK-47 rifle
By Francis Igata
ENUGU—Piqued by the slaughter of 17 hapless natives of Enugu State in the past four months by rampaging Fulani herdsmen, the Civil Liberties Organization, CLO, yesterday, alleged that President Muhammad Buhari's inaction on the killings suggests that he is behind the dastardly acts.
CLO said had a similar orgy befallen another country in Africa, Europe and other parts of the world, Buhari would have been the first to condemn the killings while he turns a blind eye on the endless killings of his fellow country men and women.
Continuing, CLO, also vowed to follow, inch-by-inch, the arrest last Monday, of one herdsman, Ibrahim Adamumale, 20, nabbed in Affa, Udi Local Government Area of Enugu State for allegedly being in possession of a sophisticated gun, an AK-47 rifle with 24 rounds of live ammunition.
CLO's anger was against the backdrop of the arrest by operatives of the Inspector-General of Police, IGP's Intelligence Response Team, IRT, on the alleged masterminds of April 25 Nimbo massacre of 13 natives, based on credible technical intelligence.
The suspects arrested in the Nimbo attack were: Mohammed Zurai, Ciroma Musa, Sale Adamu, Suleiman Laute, and Haruna Laute.
They lamented that the country has never been polarized along ethnic lines as it is now.
Member, CLO Board of Governors, Alhaji Danjuma Gambo said: "We are wondering whether the president, who ran for office, four consecutive times never had an agenda for Nigeria.
With a little above one year in office, the country is now in a terrible mess where people can no longer sit down peacefully in their own ancestral homes.
"The development that a herdsman was arrested by Police last Monday is not the first. Exactly four months ago, the same Fulani herdsmen attacked Nimbo, killing about 13 persons. This is apart from burning of houses,raping of women and children and destruction of farmlands. The five suspects arrested in the Nimbo massacre made confessional statements to the killings in Nimbo. Will the investigation take eternity when the same police said the suspects have made confessional statements? The Inspector General of Police should account for the five suspects and tell us where they are four months after the investigation.
"Police in Enugu must tell us how the suspect got the sophisticated AK-47 rifle and also prosecute him to bring closure to these cases. Justice should be seen to be done. Buhari has never condemned herdsmen activities and his body language suggests that he sponsors their activities."