By Jonah Nwokpoku
Delta State Government has recorded N71.3 billion revenue between January and June, 2016 as against the projected N268 billion contained in the state's 2016 appropriation Act.
This was contained in a performance report of a presentation by Delta State Governor, Dr. Ifeanyi Okowa at the Lagos Business School.
A breakdown of the performance report showed that the state recorded N21, 996, 004, 767 in internally generated revenue, N41, 015, 052, 512 in statutory allocation including mineral revenue derivative while Value Added Tax, VAT and other capital receipts and miscellaneous accounted for N3, 500, 000, 000.
The summary of the expenditure performance on the other hand showed that recurrent expenditure stood at N57, 635, 946, 116 while capital expenditure stood at N13, 562, 041, 834 within the period under review.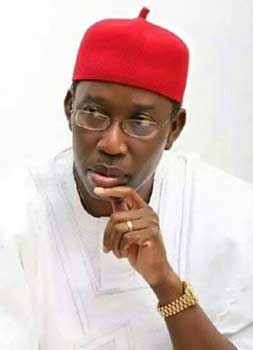 Okowa who was making a presentation on 'Public policy and governance in delta State: Opportunities and challenges' said the half year report showed strong positive indicators with the fiscal imbalance of the State in the past being curtailed through fiscal discipline, prudence and accountability," noting that as a result of these,
"Revenue for the first half of the year is marginally higher than the expenditure, with positive percentage variance of 0.9 per cent."
According to Okowa, his administration was also able to create a total of 17, 173 jobs between August 2015 and May, 2016, even as it targets at least 50, 000 jobs annually up until 2019.
He said the jobs were created through the various programmes and initiatives of his administration within the period, noting that out of the total number of jobs created, agricultural support accounted for 7, 293 jobs, microcredit support, 4,440 jobs while the rest was generated through public works such as roads and housing construction, transport, sanitation, etc.
Speaking further, he said Delta State through the 'Delta State Medium Term Development Plan' targets to, "Grow the Delta State economy by at least 5 per cent annually, create 50, 000 jobs annually up to 2019, increase household income by 5 per cent annually, reduce unemployment by 5 per cent annually, reduce overall poverty by 5 per cent and reduce the proportion of Deltans living below poverty line by 5 per cent annually."
Other targets include: "Ensuring that at least 30 per cent of Deltans have access to health insurance scheme by 2017, achieve a more comfortable level of debt sustainability by 2019, establish a strong safety net for the vulnerable by 2019 and significantly raise public confidence level in governance in Delta State by 2019."
The Governor also noted that some of the challenges confronting the State such as the current economic downturn will be tackled through "budget discipline, prudent management of resources and strict fiscal control measures to eliminate inefficiencies, reduce waste and plug leakages."