By Rotimi Agbana
The House on the Rock Church, Natives FilmWorks, Michelangelo Productions and the Bolanle Austen-Peters Production are collaborating to host the Nigerian Premiere of the Nigerian produced Film – 93 Days, next week, 2016, at The Rock Cathedral in Lagos.
The Ebola film, Starring Bimbo Akintola, Danny Glover, Tim Reid, Somkele Idhalama, Keppy Ekpenyong Bassey, Gideon Okeke and other talented actors, is a compelling story of dedication, sacrifice and resilience which celebrates the courage shown by the First Consultant Medical Team, the Lagos State Government, Federal Government and well-meaning organizations, in combating the Ebola virus which broke out in Nigeria early 2014.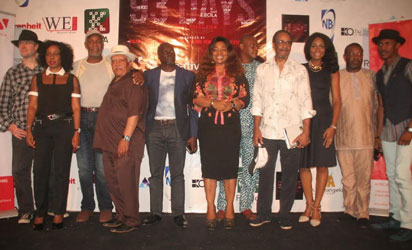 The movie tells the story of how a select few individuals sacrificed their lives in the face of the horrendous battle against the lethal Ebola virus, some of who lost their lives, but not without saving several others. Noteworthy is the character, late Dr. Stella Adadevoh, played by renowned Nigerian actress, Bimbo Akintola. Working with her younger colleagues, her early detection of the disease in a patient and insistence on treating him contributed greatly to limiting the spread of the deadly disease in our nation. This powerful movie has the central themes of triumph, heroism and a country's determination to rise above the storm.
One of the Producers of the movie, Bolanle Austen-Peters in her statement said, "93 Days is a masterfully crafted story of bravery and sacrifice and is definitely a must see. It showcases the best of Nigeria; it is powerful, gripping and an emotive piece. I am more than proud to have played a part in this project."
The Lagos State Government's rapid response and collaboration with other well-meaning organizations in combating the deadly virus earned this notable premier the theme, The Power of collaboration. This movie tells the story of greatness and drives home the importance of unity in conquering and overcoming challenges.
Speaking on The House on the Rock Partnership with these notable bodies, the Senior Pastor of all House on the Rock Churches, Pastor Paul Adefarasin said, "House on the Rock's mission is to work together with everyone that is invested in building a transformed nation, a better Nigeria, and this essence ties strongly into the courage displayed by Dr. Stella Adadevoh and her colleagues who brought hope to a nation that was being threatened by devastation, at the expense of their own lives. This is the kind of love and sacrifice that can truly bring transformation to all."
The Toronto International Film Festival (TIFF), widely recognized for showing the most outstanding films from around the world, has selected 93 Days for screening at the Isabel Bader Theatre in Toronto, Canada this week.