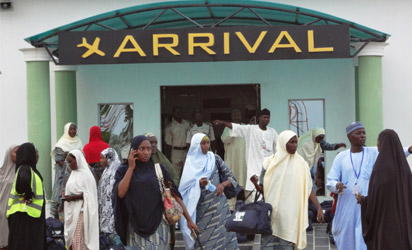 Nigerian pilgrims leave the arrival hall of Mallam Aminu Kano International Airport shortly after their arrival from the muslim holy city of Madina recently. AFP PHOTO
A total of 791 pilgrims from Kaduna State have arrived home after performing the 2016 Hajj in Saudi Arabia.
The first batch of 491 pilgrims were transported back to Kaduna on Sunday by Flynas Airline, while the second batch of 300 pilgrims arrived at about 230am aboard Max Airline flight.
Abdullahi Bayero, Chairman, Media sub-committee of the state Hajj Delegation, told newsmen in Makkah that 474 pilgrims would also depart for Kaduna from King Abdulaziz Airport Jeddah on Monday.
A total of 5, 623 from Kaduna state performed the Hajj this year, but one pilgrim was reported dead in Mecca due to cardiac arrest.
Bayero assured that the three airlines tranporting the pilgrims would conclude the exercise on time.
He advised the pilgrims to ensure that their luggage was not more than the 40 kilogrammes prescribed, so as not to delay their departure.
Bayero expressed satisfaction with the conduct of the entire hajj operation, and urged pilgrims from the state to cooperate with the officials to conclude the exercise successfully.