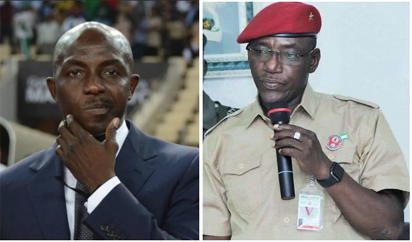 Siasia-Dalung
Youth and Sports Development Minister Barrister Solomon Dalung was reported to have visited the Atlanta, USA camp of the U-23 Eagles preparing for the Rio Olympics and frowned at the coach, Samson Siasia's resort to the media to complain about the difficulties the team were facing.
Apart from warning that Siasia's action would be looked into and appropriate sanctions meted out to him if necessary, the minister was said not only to have instructed the team's captain, John Mikel Obi to take control of the team but equally asked him to restore sanity to the team which he alleged was plagued with indiscipline.
Sports Vanguard reported the story on Tuesday and Nigerians who could not stomach the minister's action which they said could distract the team, called on the President, Muhammadu Buhari to remove him and save the sector from total collapse.
Hereunder are their various reactions:
Which kind of Minister is this for heavens sake, asking a team captain to "take over and restore sanity ", while still retaining the coach? Does the Minister know what Nigerians think about him? If he must know, he is the worst Minister that will oversee Sports in Nigeria. He is disgrace to this administration!
I am now very convi-nced that this so-called minister is a disgrace to sports and Buhari that appointed him. What has he done for sports? Nothing but garrulous and divisive comments! May God sanction him first before he thinks of sanctioning Siasia!
Maybe he could have been better as a police DPO. We have a joker as a sports minister
@EromoseIleso from Twitter
This is what you get when you put square pegs in round holes. The wrong persons have been sports minister for years. Very unfortunate.
forestgee From NigerDelta
The Minister failed to make adequate prepara-tion and provision for the team, and wants to sanction Siasia for telling the truth! Can all sports men and women in the country down tools until the Minister is replaced. There should be a peoples' revolution in the sports sector! #DalungMustGo
Remove this Dalung NOWWWWW!!! What kind of minister is this?
I thought this man was intelligent when he was hired. It's unbelievable how he's bashing a coach in a tournament. He can't stop showing low level of his intelligence daily.
'Boy Scout Dalung'… you  have mass-ively invested in failure and failure you shall get!
Prof
We breed failures and put in place irreversible hurdles to ensure we fail in every human endeavour we elect to do. Other countries take between 4 to 8 years to prepare for the Olympics whereas we take a week or no preparation at all yet the gullible minister of sports' failure has given Team Nigeria a target of 10 medals in the Olympics. Are they going to steal it or rob other well equipped and better athletes at gun points. This is what incompetence and mediocrity has reduced a great nation as Nigeria to. God help US
Unfortunately for you Sir, Nigerians are not fools. Shouldn't you be the one taking him/them along in your plans, assuming you have one in place? Now you're embarrassed and it's power wielding and punishment time? Come back when you figure out if you're a Boyscout or Sports Minister.
It is apparent that Barrister Dalung has stripped Siasia of control of the team and instructed Olympic Eagles captain, John Mikel Obi to assume control of the team and restore sanity …… Vanguard.
I hope the above statement is untrue. If it is true, it serves as further confirmation of why we retrogress. How can you marginalize the coach and hand control to the team captain? By the way, the minister should tell us if the allegations are false.
Siasia still remains the coach, Mikel was just used to pacify the team because Siasia isn't happy with the situation on ground.
Silly, selfish sports administrators in Nigeria simply kill sports in the country. Dalung and half a village of official assistants etc could afford to fly to the USA possibly on a chartered plane, stay in 5 star hotels, eat more than 3 square meals, go on shopping sprees, collect esta-code, wardrobe, newspaper, stationary, toilet, teeth-whitening, massage parlour, and other allowances at the expense of the taxpayer, he will also pay premium health insurance while visiting USA all at the cost of NIGERIA. Ironically, this same Nigerian sports ministry claims not to have the funds to foot the bills of our athletes to the Rio Olympics. Even Nigerian coaches, both dead and alive are still being owed wages from jobs they did for Nigeria. Some retired and current players are still being owed allowances from tournaments that ended 20 years ago! Kai, these Nigerian politicians and officials deserve a kiss of the matchete!
Another god has emerged. Unfortunately my comments here cannot change anything. Why not support this team to go far and at least help Nigerians to ease the depression and economic recession we have been carelessly exposed into? Why are these people treating Nigerians this way? Mr. President, I humbly request you urgently call this Minister of sports to order. His apparent decision will be very damaging to your already damaged image.