By Dayo Adesulu
The West African Examinations Council, WAEC, last Friday released its 2016 May/June WASSCE results, recording 53 per cent five credits pass in English Language and Mathematics, thereby breaking the jinx of mass failure recorded in a decade.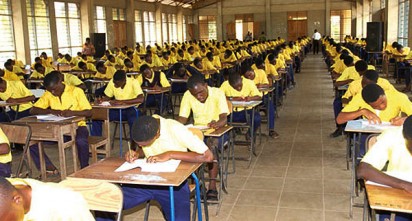 Asked if the improvement in candidates' performance was not due to WAEC lowering the standard of questions set and the marking scheme, the Head of Nigeria National Office, WAEC,  Mr. Olu Adenipekun, attributed the improvement to the hard work and commitment of students, teachers, government and other stakeholders in the education sector.
Adenipekun who was optimistic that the trend would continue next year and beyond, did not, however, state the areas where students, teachers, government and other stakeholders in the education sector have helped to improve students' performance in the exam.
It will be recalled that in 2014 and 2015, the percentage of candidates that obtained five (5) credits and above including English Language and Mathematics in the WASSCE were 31.28% and 38.68% respectively.
In 2012 and 2013 May/June WASSCE results, 38.81 per cent and 36.57 per cent respectively, were recorded 2013.
Similarly, a total of 139,827 candidates that sat for the same examination in 2011 bagged five credits including Mathematics and English language and 337,071 candidates, representing 24.94 per cent obtained credits in English Language, Mathematics and at least three other subjects.
In 2009, 25.99 per cent of those who sat for the exam obtained a credit pass in Mathematics and English compared to 23.5 per cent in 2008 and 25.54 per cent in 2007.
53% still not enough
Reacting to candidates' 53 per cent pass in English Language and Mathematics, the Director of Strong Tower Academy, Mr Lekan Owodunni whose SSS3 students performed excellently in the 2016 May/June WASSCE said he expected students to perform better than the 53 per cent.
He said: "For me, even the 53 per cent perfomance in the WASSCE results is still not impressive enough. Until we have 70, 80 and 90 per cent performance, that is when I can adjudge them as doing well, because 50 per cent is still average."
He, however, alluded the improvement in candidates WASSCE performance to WAEC's decision to give every school its marking scheme which helped schools to prepare students in line with the scheme.
"Making the working scheme available to schools made every school to step up their game to ensure that every student is handled more seriously," he said.
Owodunni, who insisted that it was not the intention of WAEC to fail any student, explained that WAEC, having done a lot of researches on why candidates fail WASSCE year in, year out, identified where the problems lie.
Transparency and hard work
He said: "WAEC, had earlier in the year sent the marking scheme to all schools which most schools operated on."
For Strong Tower Academy, Ikorodu, he said: ''The success on the part of our students could be attributed to transparency and hard work. Transparency and integrity on the part of the school and hard work on the part of the students and teachers."
On his part, Director, Dampress Private Schools, Ikorodu, Mr Adams Ezekiel said: "In the past, a lot of schools found it difficult to embark on real objective curriculum.
"There is a curriculum for the school that determines the activities of students in the school generally. When the school fails to observe the totality of the school curriculum, students will find it difficult to perform to expectation."
Many schools strictly adhered to curriculum,
He noted that the improvement in students' performance in the WASSCE was because "this year, many schools strictly adhered to and finished the curriculum," noting that the type of teachers employed in any school is key to students' academic success. He posited  that  when a school fails to employ the real qualified teachers produced by Education faculties in the universities, students will find it difficult to excel in academics.
"At Dampress Private Schools, we tried as much as possible to have extramural classes for students, beginning at 6am, and stay behind after school from 4pm to 6pm for coaching. "As the director of the school, I have to be in the school at 5:30 am to supervise other teachers, to the extent that I was nicknamed another Tai Solarin."
Meanwhile, the former Dean, Faculty of Education, University of Calabar, who is now Deputy Vice-Chancellor, University of Calabar, Professor Florence Banku-Obi said the failure rate of WAEC candidates for so many years has been worrisome to governments at every level, leading the Ministry of Education in different states to device different methods to get the teachers to put in more efforts.
Teachers' promotion tied to students' performance
She said: "In Cross River State, for instance, the government came up with a policy that teachers' promotion will be tied to students' performance. Although that is not a very good policy – to tie down teachers' promotion to students' performance- because you cannot force an unwilling horse to drink water."
She stated that in the quest to boost students' performances, some states have   incentives for best teachers. The DVC said: "A number of schools I know, introduced part-time lesson programmes for students, just as many parents also engaged their children in one lesson or the other.
"Also, when students  knew that their ambition to further education is tied to their performance in WASSCE, they became more serious in their studies, especially in Mathematics and English Language which have become compulsory.
"Moreover, some state governments have tried to improve and invest more in education by trying to make the school environment conducive for learning. There are some states that give incentives to teachers by giving best teacher awards to them.
"In the University of Calabar Secondary School, which is a private school, any teacher whose students pass well in a particular subject in WAEC, the teacher gets some rewards.
"This, in a way, encourages teachers to put in more efforts in teaching their students."
Subscribe for latest Videos