The civil aviation authorities of Ghana and Niger Republic have endorsed Air Peace's plan to spread its wings in foreign lands, saying the airline gives priority to safety and global best practice in its operations.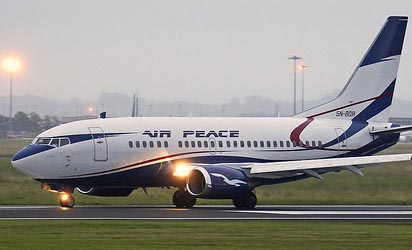 In a related development, the Chief Operating Officer (COO) of Air Peace, Mrs. Oluwatoyin Olajide has assured that the airline is ready to operate flights from Nigeria to Atlanta, China, Dubai, Ghana, Niger, Dakar, among other destinations, as part of its expansion drive.
Speaking during a two-day foreign air operator base inspection visit to Air Peace's facilities in Lagos, Head of Operations Department of Niger Civil Aviation Authority, Mr. Bala Sani said the airline's safety standards, state-of- the-art equipment and structure qualified it for international flight operations.
Air Peace's aircraft, he said, are well maintained. Sani commended the Chairman/Chief Executive Officer of the airline, Chief Allen Onyema and his team for not compromising standards in the company's operations.
In its own assessment report, Ghana Civil Aviation Authority (GCAA) said it was satisfied with the operations of Air Peace.
The report signed by Mr. Samuel Benson, Capt. E. C. Dargbe and Dorothy Tackie, who inspected Air Peace's facilities, said GCAA's assessment of the airline was positive.
Meanwhile, speaking on the assessment of Air Peace, Mrs. Olajide confirmed that the airline is eager to operate international flights soon.
She assured that the chairman and management of Air Peace will continuously strive for excellence in all its operations and distinguish the reputable airline through quality service delivery. She stressed that Air Peace will not relent in its expansion plan, adding that the airline will strengthen the quality of its operations and facilities in keeping with its promise of assuring high level passenger safety.
The airline, she pledged, would continue to provide services that create superior value toits esteemed customers while ensuring that the comfort and safety of passengers are accorded top priority in Air Peace.
File Name Peace