The failure of the Federal Government to release funds to the country's contingents, billed to participate in the 2016 Rio Olympics, holding in Brazil between August 5-21, 2016, has forced athletes representing the country at the world's foremost sports competition to crowd-source fund from social media.
Recalled that American-born Nigerian sprinter, Regina George, who represented the country at the 2012 Summer Olympics, launched a $4,000 campaign on the World's number one personal fundraising website, gofundme.com.
Nigeria's fastest man, Seye Ogunlewe also called on corporate organizations to come to the rescue of the athletes.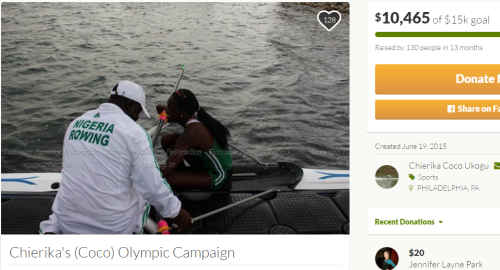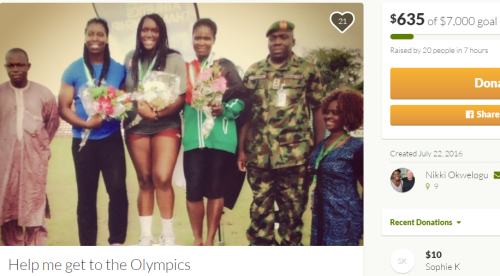 Investigations have revealed that other athletes have launched similar campaign on the online crowd-sourced funding platforms to solicit for funds to fly them to the competition. Some of the athletes who could not hide the shame of missing out in the competition, after about four years of preparation, owing to delay in releasing funds for them, begged well-meaning Nigerians and others to come to their rescue.
Nwanneka 'Nikki' Okwelogu, 2016 discus gold medalist at the African Championships in Athletics, has launched a seven thousand dollar ($7,000) campaign to enable her participate at Rio Olympics.
In her page, she expressed her frustration, noting that she was forced to start the campaign because Nigerian government on Friday informed her and other athletes that the country can no longer pay for their flight tickets to Rio. She lamented that it will be a shame if she fails to represent Nigeria at the Olympic Games after placing first at the Nigerian Olympic trials.
"I know there has been a lot of these gofundmes going around, and I hate to further spam your newsfeeds like this. I have been selected by the Nigerian team to represent them in the shot put in this year's Olympic Games. But, the Nigerian team can no longer pay for my flight ticket to Rio. I got the email today, and because it's such late notice, the flights are all very expensive. Those of you that know me know that I hate asking for money/ handouts and I wouldn't make this fundraiser if it weren't absolutely essential. I honestly never expected to get this close to going to the Olympics. However, after working so hard to throw the Olympic Standard and to place first at Nigerian Olympic Trials, it would be a shame to not go on the account of political and financial reasons. Again, I am aware that I'm not the only worthy cause, so anything you can spare for my Olympic dreams would be greatly appreciated," she posted.
Further investigations revealed that Cheirika 'Coco' Ukogu, who will be making history at the 2016 Olympic as the first rower to represent Nigeria at the Olympic Games, launched similar campaign over 13 months ago because she was not getting any financial support from the Nigerian government.
She sought to raise fifteen thousand dollar ($15,000) to buy uniforms and boats as well as travel costs and entry fees among others.
"I am not receiving any financial support from the Nigerian Rowing Federation, so my dream relies on your generousity! Money raised will go towards travel costs, entry fees, uniforms, boats, and anything needed to make the Olympics a reality! Please join me on my quest to make history in Rio," she posted on her page.
The daughter of Nigerian immigrants founded a non-profit organization called Flip Flops for Africa and donated 10,000 pairs of flip flops to Nigerians in need in 2007.
"I hope that my athletic endeavors will inspire other Nigerians to take up rowing and experience the same joy I feel every time I'm on the water," she posted.
The graduate of Stanford University and a medical school hopeful is an inspiration for women in Nigeria and around the world. Coco will be participating at the 2016 Olympics in the single sculling event, and will go down in history as Team Nigeria's first ever Olympic rower. She currently trains at the Vesper Boathouse at Schuylkill, Philadelphia, prepping for her historic moment at Rio and beyond.
As at the time of filing this report, George has raised $1,905 within 17 hours of launching her $4,000 campaign. Okwelogu has raised $635 within 7 hours of launching her $7,000 campaign while Ukogu has gotten $10, 465 within 13 months of launching $15,000 campaign.
Nigeria is scheduled to compete at the 2016 Summer Olympics in Rio de Janeiro, from August 5 to 21, 2016. Since the nation made its debut in 1952, Nigerian athletes have participated in every edition of the Summer Olympic Games, except for the 1976 Summer Olympics in Montreal because of the African boycott.