By Ebele Orakpo
''Hmm! We can't continue like this in this country oo. Something has got to give," said Carol, a commuter in the CMS-bound bus as a lady complained about how much she spent on just bread for breakfast.  "My problem with us as a people is that we are too docile. We can complain from now till eternity, yet refuse to do anything to change the situation. We will rather keep adjusting and readjusting like the toad placed in a pot on fire with water. As the temperature of the water rose, the toad kept adjusting its own temperature to suit the surrounding temperature until it died," said Comfort.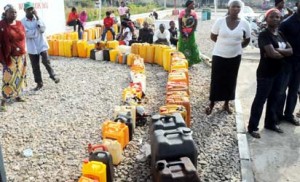 "The price of everything you can think of has gone up. A 50cl bottle of kerosene mostly used by the poor masses is now N200. A litre goes for N230 at filling stations and more at the retailer's. So tell me, how will the average family survive, with months of unpaid salaries? Something will happen sooner than we can imagine. People can endure anything but not hunger," said Idowu.
"Like I keep saying, we have not seen hunger yet. This is just the beginning. We will feel the real impact next year," noted Kingsley to which Ade replied thus: "How do you mean? By next year, farmers would have started harvesting farm produce so it won't be as bad as you are painting it," noted Ade. Said Kingsley: "Which farmers and what farm produce? E be like say you live for Mars, otherwise you would have known that farmers did not really farm this season due to attacks by Boko Haram in the North-East and Fulani herdsmen in other parts of the country.
 Food Basket of the nation
Benue, the Food Basket of the nation has been dealt a big blow. Farms have been destroyed across the country and many are afraid to go and farm. A farmer in Oyo State said he borrowed money from the bank and invested in cassava production. In one night, cattle ate up the entire cassava; the man almost died, what, with loan hanging over his head and nothing to show for it?"
Said Carol: "Shebi we were told that the Boko Haram insurgents have been decimated so why should the Army deny farmers willing to go back and farm, fertilizers? You and I know that without fertilizer, nothing can really grow in those areas. From the reports I read, Chief of Army Staff, Lt. Gen  Yusuf Buratai said the army decided to stop supplying fertilizers to farmers in Adamawa,
Borno and Yobe states in order to stop the production of Improvised Explosive Device, IED, by Boko guys. They also stopped the use of Jerry cans and motorcycles to buy fuel in Yobe and in Adamawa states so as to effectively starve Boko guys of supplies for their deadly products. They use petrol and fertilizers to produce IEDs." "That is a security strategy, a wise decision," said Ade.
"Ha, this one na serious matter oo. But can't the Army think? So because the products may fall into the wrong hands, the only way is to starve people? There should be a better way of monitoring the fertilizer and making sure it gets to real farmers. So the way things are now, hunger is staring all of us in the face come next year. Even farmers who depend on irrigation to water their farms cannot buy petrol to fuel that. It's sad. I am afraid of the repercussion. One can only imagine what a hungry and angry multitude will do," noted Comfort.