By Francis Igata
ENUGU—The Trade Union Congress,TUC,Enugu State Chapter and the Civil Liberties Organization, CLO, yesterday, expressed satisfaction with Governor Ifeanyi Ugwuanyi of Enugu State, over his blistering performance during his first year in office, revealing that his administration has lived up to expectations and sustained the confidence reposed on it at inauguration.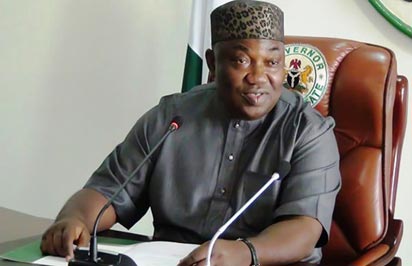 Both bodies spoke glowingly against the backdrop of the completed Penoks-Nike Lake and Abakpa -Nike Lake roads which was flagged off last December by the administration and the prompt payment of salaries on the 25th of every month.
In a chat with the TUC Chairman,Enugu State Chapter, Igbokwe C. Igbokwe said, "the governor has shown that he has a listening ear which has culminated in the promise to pay the adjusted workers' salaries.
"Ugwuanyi is a Labour friendly governor. That is why he pays attention to issues that affect workers in the state unlike the previous administrations where we were dealt with a ten meter pole. He listens to us and our demands although the economy is very bad now."
It gives a sense of belonging and once there is a will,there must a way".
Similarly,member CLO Governing Board,Danjuma Gambo,extolled the administration's resolve to ease traffic difficult in Enugu urban which culminated in the completion of the Penoks-Nike Lake and Abakpa -Nike Lake roads in record time.
"The perennial traffic difficulty that saps manhour from motorists on these roads have thinned out. It is only a responsive government that will attack issues that affects the people and goes ahead to solve them in record time. The roads are critical arteries to the rural communities which would triger socio-economic development that forms the fulcrum of the administrations' development agenda" the CLO member  explained.