By Emeka Mamah
Enugu —New Deputy Vice Chancellor of the University of Nigeria, Enugu- Campus, UNEC, Prof Smart Uchegbu, has urged 63 newly graduated physiotherapists from the institution to stick to the ethics of the profession and work with the fear of God.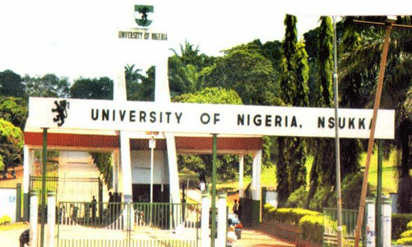 Uchegbu, who represented the Vice Chancellor, Prof Chukwuma Ozumba, at the induction of the graduates at UNEC weekend, expressed the hope that with the quality training they received during their study, they would excel nationally and internationally.
He said that although, the global economy was currently in bad shape, the graduates should not cut corners and enrich themselves at the expense of patients.
Presenting the graduants to the Registrar, Medical Rehabilitation Therapist Board of Nigeria, MRTB, for induction, the Head of Department of Medical Rehabilitation, Faculty of Health Sciences and Technology, College of Medicine, UNEC, Dr Anthonius Ezeukwu, stated that despite the numerous achievements recorded by the department in its 24 year – history, there were still some teething problems that needed to be addressed by the university administration to enable it consolidate on the gains made so far.
Ezeukwu further submitted that the overwhelming and increasing quest for admission into their programme, had served as the major challenge that had recently put an enormous burden on their facilities and personnel.
He continued: "Clinical students are finding it difficult to secure the minimum clinical 2000 hours required to acquire sound clinical training, as they have to go in batches in order to access limited clinical facilities in the various hospitals within our catchment area and this has affected the capacity of our classrooms, library, laboratory and personnel demands."
The don, however, identified the non-appointment of specialist physiotherapists in the department as consultants to teaching hospitals in their areas of specialisation as one of their greatest problems.
According to him "this appointment is critical considering that the department has been operating for the past 24 years and should have all necessary staff complements in place by now."
Ezeukwu further said, "in fact recently, this challenge attracted the attention of the National Universities Commission, NUC, Accreditation Team and our external examiners who heavily criticised the programme, and the main reason for their displeasure is that there is lack of recognised clinical training programme for students, since staff of the department are not authorised to teach their students, using, the teaching hospital patients."
He however, disclosed that a proposal had been sent to the university authorities to expand the department to accommodate other aspects of the profession, adding that the department had secured a large space for laboratory and needed equipment in the Electrotherapy Unit, Gymnasium and Occupational Therapy among other facilities to continue to function effectively and meet global demands.