By Emeka Mamah
ENUGU—Enugu State Government is to set up an administrative panel to investigate the remote and immediate causes of the on-going skirmishes between Ugbene and Ejuona people at Alor Uno, in Nsukka Local Government Area of the state over alleged slavery.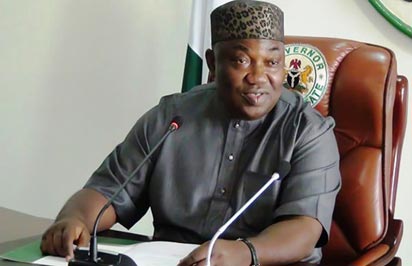 Governor Ifeanyi Ugwuanyi made this known when he addressed leaders of Alor Uno at Government House.
The factional leaders, who attended the meeting include Nkechi Omeje, Nelson Ogbonna,  Sunday  Onah, Linus Ogbuisi, Raphael Nnadi, Calistus Anichi, Godfrey Ezeh, Gilbert Omeje, Dr Ejike Ozioko and Caleb Omeke, among others.
At a meeting between the state Police Commissioner, Ekechukwu Nwodibo and Alor Uno factional leaders in his office, he asked the people to live in peace as the government would soon set up a panel of enquiry to get to the root of the matter.
Meanwhile, the Ugbene people, yesterday, accused the Enugu State police command of taking sides with their oppressors.
They claimed that the police were arresting their people only leaving the alleged perpetrators of the crisis, pointing out that those who were detained and branded robbers, arsonists and attempted murderers were parents and old men who were picked up from their homes and not from the scenes of any crime.
There had been crises between the Ugbene and Ejuona of Alor Uno following reports that the constitution of the town was clandestinely altered to deprive the Ugbene people of their rights in the belief that they were slaves.
Apart from stipulating that an Ugbene man or woman cannot take any chieftaincy title or become the traditional ruler of the town "in view of the fact that they were slaves," the people were also barred from passing through some track roads in the town and as such were reserved for the true sons and daughters of Alor Uno.
The latest crisis began when a young man from Ugbene was chased by some youths and given a machete cut on the head on April 11, for allegedly passing through a track road reserved for alleged true sons and daughters of the town, triggering reprisal attacks by another group of Ugbene youths.
This is even as investigations had shown that secret killings were going on just as arms were being allegedly stock-piled by indigenes of the town, who had been taxing both those at home and in Diaspora over the issue.