….inaguarates Africa Food Prize award
By Jimoh Babatunde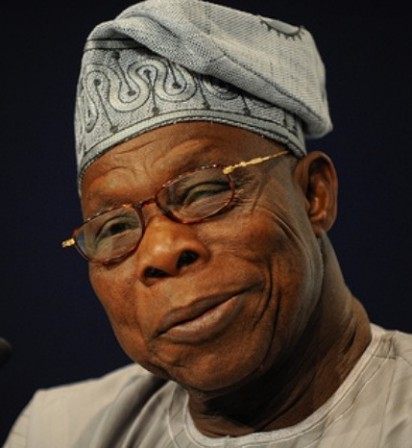 Accra – Former Nigeria President, Olusegun Obasanjo, has said that water management in agriculture has become imperative in addressing the issue of climate change.
Speaking yesterday with Journalists in Accra, Ghana, at the on going 12th CAADP Partnership Platform meeting, Obasanjo said we have to think outside the box in our farming system.
The Meeting is organised under the theme "Innovative Financing and Renewed Partnerships to accelerate CAADP Implementation.
He said growing pressure from competing demands for water, along with environmental imperatives, mean that agriculture must obtain "more crops from fewer drops".
But, he added that with the implementation of the measures agreed at the Conference of Practice (COP21) in Paris , France last year that Africa does not need to worry for too long.
Speaking later at the opening of the conference proper, the former President said African leaders and the private sectors are now embracing the potential of Agriculture to deliver a more secured and prosperous future.
Inaugurating the African Food Prize Award, Obasanjo said " at the heart of the prize are different partners working to transform African agriculture, therefore, it is clear there are many initiatives being driven African leaders, NGO and private sector."
He added " We are building an effective transformative process that catalysis out shared goals of making the continent good secured."
Obasanjo noted that the former YARA food prize award now christened Africa Food Prize award is a clarion call for innovative solutions designed to take Africa Agriculture to a new height.
" with continue support of Alliance for Green Revolution in Africa and YARA, the prize will continue to grow.
"The prize was inaugurated in Oslo, Norway ten years ago by YARA international, but now moving to Africa by Africans for Africans. "
Obasanjo said launching the African Food Prize Award at the 12th CAADP Meeting provides an authentic continental seal of approval.
"So it a moment of galvanizing the aspirations of the multiple stakeholders in realization of the Malabo declaration that an annual award be institionalized."
He said the prize will recognize the extra ordinary individual and institution whose contributions help in the continent's food security.
As the Chairman of the prize, Obasanjo said "This prize is the preeminent Africa award recognizing extra ordinary including or institution whose contributions to Africa Agriculture forges a new Era of sustainable food security and economic opportunity for our people. "
Subscribe for latest Videos