By Ochereome Nnanna
A CURSORY check of the outlines of the abduction of teenager, Miss Ese Oruru from her parents' home in Yenagoa, Bayelsa State by one miscreant, Yinusa "Yellow" (what a befitting alias!) and her transfer to a hiding place in Kano immediately flooded my mind with the Chibok Girls saga. Let's compare and constrast.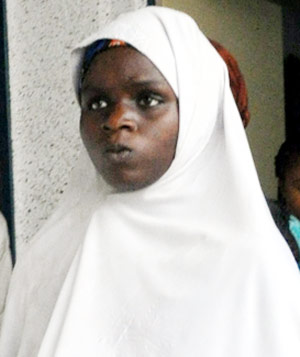 On the 14th of April 2014, Boko Haram Islamist terrorists invaded the Girls Government Secondary School, Chibok, Borno State and took away 276 final year students to an undisclosed location. A couple of days later, they showed videos of these girls (majority of whom were Christians) dressed in hijabs and reciting passages from the Muslim holy book, the Koran. Their abductors claimed that they had been converted to Islam. In fact, the leader of Boko Haram at that time, Abubakar Shekau, boasted that he would "marry them off" or "sell" them. Some of the girls who managed to escape from the den of the Islamist militants went home with bulging Boko Haram pregnancies.
In this extant case, Ese Oruru was thirteen when she was taken away from her parental home in August last year to Kano where she was forced into Islam preparatory to her being "married off" to her kidnapper, Yunusa. She was allegedly kept in the palace of the Emir of Kano, Sanusi Lamido Sanusi, who as an international figure, quickly denied it. The emir claimed that Ese was brought to his palace by the District Head of Kura last year. Apparently, Yunusa had approached the District Head to wed him and Ese, whom they had now renamed "Aisha Chuwas".
According to Sanusi, he ordered that the underaged girl should be handed over to the Assistant Inspector General of Police (AIG) Zone 1, Tambari Yabo, for her return to her parents. He did not tell us how come it took seven months, yet the Police did not.
However, the story told by the girl's distraught parents, Charles and Rose Oruru, was dramatically different. According to them, Yunusa was a regular customer to the family's petty trade. That was obviously how, like a snake, Yinusa gained access to the tender rose. When the parents found out, they reportedly paid several failed visits to Kano to recover their stolen child.
There they were told that Ese had now become a Muslim, and her parents not being "believers", were no longer qualified to have access to her. They changed her age from thirteen to eighteen, and bragged that the parents would never see their child again "forever" because her abduction was allegedly ordered by Emir Sanusi.
Now enter the Nigerian Police into the matter, and please, don't laugh. Peter Babatunde Ogunyawo,the Bayelsa State Commissioner of Police, said when the case was reported to him he wrote to the palace of the Emir of Kano. He even said he wrote "several letters", and unless something was done, he would write to the Commissioner of Police in Kano State. An offence that was committed seven months ago! Maybe Ogunyawo, who had barefacedly lied on live television that nobody was killed in Bayelsa during the recently concluded gubernatorial polls, was waiting for Ese, like the escaped Chibok girls, to contract her abductor's pregnancy or even give him a baby before moving in to rescue a kidnap victim and bring the perpetrator to book.
Ogunyawo's boss,  the Inspector General of Police, Solomon Arase, appeared hopelessly impotent just like his Bayelsa flunkey. He responded to the outrage with hands thrown up in the air: "I can't free Ese without Emir (Sanusi's) help". Since when did the Nigerian Police need the "help" of a traditional ruler to storm a kidnapper's den, rescue a citizen and bring the perpetrator to book? Supposed the Emir refused to help, then the Police would drop the case?
Quite obviously! Ese's father actually said so. What a vote of confidence for the Police! It was this same Arase who responded to the Agatu killings by armed Fulani invaders, saying the vandals were "not Nigerians"! Was that an excuse for the failure of the Police and security forces to protect Nigerians from these barbarians killing, looting, kidnapping, displacing and destoying in communities all over the Middle Belt and the Southern states of Nigeria! So, "foreign invaders" are free to pillage the land?
Much heat has been wasted on the diversionary "interview" in which Ese allegedly said she was "happy" where she was kept. That's beside the issue.
She is a minor (though the kidnappers fraudulently claimed she was 18 to justify their evil deeds and protect themselves from being called pedophiles). Ese, at 14, has no right to either choose a new faith or "marry" without the express consent of her parents. How does she even know she is "happy"? She does not know what many native Northern Muslim women go through at the hands of their male folks who, in most cases, treat them like expendable items. To Yinusa, Ese was merely a trophy snatched from predominantly Christian Bayelsa and presented to the District Head, the Sharia Council and the Emir as a feat of personal herioc accomplishment.
If the whole nation had not risen to confront this matter, the Arase-led Nigerian Police would have looked the other way while the constitutional rights of Ese and the Oruru family are brazenly, arrogantly and insolently raped without any consequence to the evil men behind it. After all, it would not be the first time.
Miss Charity Uzoechina, daughter of a pastor of the Redeemed Christian Church of God (RCCG) was similarly abducted two years ago from her school, Federal Poly Bida, taken to the palace of the emir (Etsu Nupe), Islamised and kept away from her family. We were also told she was "happy" to be a Muslim. Till date, she remains in captivity. No one has rescued or returned her to her family. No one feels outraged!
Some disgruntled people say that Nigeria is a "slave camp" for for some Nigerians. Do you blame them?