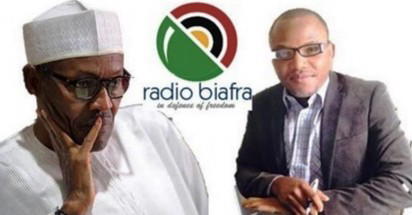 buhari biafra
By Nwabueze Okonkwo
South-East Based Coalition of Human Rights Organizations, SBCHROs, has accused security forces  of killing 80 members of the Indigenous People of Biafra, IPOB, and their supporters between August 30, 2015 and February 9, 2016.
The accusation came on a day President Muhammadu Buhari vowed that Biafra will not stand.
The coalition also estimated those maimed at 170, just as it put the total number of those  arrested, detained, charged or kept in captivity without trial at 400.
In what it termed as the concluding part of its letter to the  Chief of the Defence Staff, Gen Abayomi Gabriel Olonisakin, and the Minister of Interior,  Gen Abdulrahman Dambazzau (retd), entitled: 'Ceaseless Killings Of Unarmed Citizens In Nigeria: Why Security Chiefs Must Desist From Provoking More Insurgencies Capable Of Plunging Nigeria Into Syrian Style (Concluding Part),' SBCHROs alleged that the  army, police and navy specifically killed 22 IPOB members on February 9, 2016 in the compound of the National High School in Aba, Abia State; maimed over 30 others, murdered 13 of  them and dumped their bodies inside a burrow pit located, along Aba-Port Harcourt Road in Abia State.
The group added that the army was responsible for 60 percent of the killings, police 30 percent and others including the navy, 10 percent, stressing that the video clips of the Aba National High School massacre and the Aba-Port Harcourt Road burrow pit dumping of 13 murdered IPOB members were available on request.
The letter was copied  to the UN Secretary General and the UN High Commissioner for Human Rights, among others.
Efforts to reach the Director of Defence Information, Colonel Rabe Abubakar, last night, to comment on the coalition's allegations proved abortive.
In a related development, President Buhari has stated, that Nigeria would not tolerate the agitation for Biafra.
Speaking to Aljazeera television during his visit to Qatar, last week, Buhari recalled that over two million lives were lost during the Nigeria civil war between 1967 to 1970 that resulted from the demand for Biafra.
He said: "At least two millions Nigerians were killed in the Biafra war. And for somebody to wake up, may be they weren't born then, looking for Biafra after two millions people were killed, they are joking with the security and Nigeria won't tolerate Biafra."
Also speaking on the economy and the pressure to devalue the Naira, the President stated that Nigeria was prepared to go against the advice on International Monetary Fund, IMF.
He maintained that the devaluation of the Naira would not pay Nigeria, saying the country was purely an import nation.
He also stated their despite the plummeting crude  oil prices in the international market, it would pay Nigeria to remain in the Organization of Petroleum Exporting Countries, OPEC.
"If it is against our national interest, why can't we go against the IMF advice?" Buhari asks.