By SIMON EBEGBULEM
BENIN CITY-THE Iwere Peace Movement, a group made up of Ijaw Professionals and youths in the Niger Delta, raised an alarm, Thursday, of alleged plans by the Federal Government to kill former militant leader, Chief Government Ekpemupolo aka Tompolo if he is arrested and detained.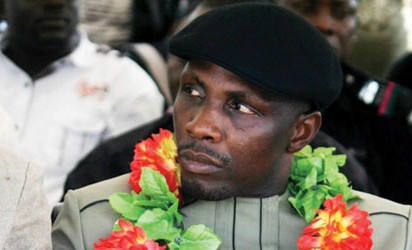 They warned that the continued militarization of the Niger Delta in the name of searching for the Ex-militant leader will plunge the region into another bloody war, appealing to President Muhammadu Buhari to sustain the prevailing peace in the region by calling the Economic and Financial Crimes Commission (EFCC) and the military to order.
In a statement made available to Vanguard in Benin City, signed by Mr. Merie Oritsejolomi and Johnbull Deghele Omadeli, the group said "We see the EFCC charges against Tompolo as a plot to arrest him and keep him in detention like the leader of the Indigenous People of Biafra, IPOB, Mr Nnamdi Kanu and the former National Security Adviser,NSA, Sambo Dasuki and murder him in detention.
"The Buhari government is in shadow chasing as it sees anyone that stand by the truth as an enemy of the government. This action will not take this country to anywhere than destruction. The government has practically abandoned serious and weightier issues like creation of employment opportunities and rejuvenation of the economy in pursuance of perceived political enemies.
"This cannot be regarded as the change the APC promised Nigerians during their campaign for votes in 2015. The APC led administration is only interested in the crude oil from the Niger Delta, and left the people in abject poverty.Therefore the government only militarise the region and continue to exploit the crude oil.
"Now the only project, the gas city and deep sea port project in Escravos that would have created thousands of jobs for the people of the Niger Delta and Nigerians in general has been abandoned. We want to advise the government to be careful in the case with Tompolo so that it will not plunge the Niger Delta region into crisis while busy exploiting the crude oil from the region.
"After all the EFFC lawyer is not fit to prosecute Tompolo because he has been having problems with him before now. He sees this as the opportunity to deal with Tompolo. We believe he will fail at the end."