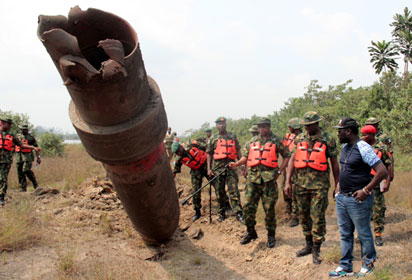 BOMBED—Major Gen. Alani Okunola, Commander of the Joint Task Force (Middle); pointing to part of a severed pipeline, while Brig. Gen. Farouk Yahaya, Commander, 4 Brigade, Benin (2nd left); Lt. Col. Igwe P. Omoke, Commanding Officer, 3 Battalion Effurun (2nd right)and others watch during inspection of the gas pipeline in Warri South-West Local Government Area of Delta State bombed by suspected militants. Inset: Other damaged areas. Photos: Akpokona Omafuaire.
Godfrey BIVBERE
Former President of the Nigerian Merchant Navy Officers and Water Transportation Senior Staff Association, Capt. Thomas Kerewerigha, has blamed the rise in pipeline vandalism on the collapse of the Federal Government Amnesty Programme.
Kerewerigha, who made this known in an exclusive interview with Sweetcrude in Lagos, also expressed worry over the activities of illegal refineries in the Niger Delta area, wondering why the issue has not been curbed.
He pointed out that the issue of pipeline vandalism and sea robbery is now on the increase, as was the case before the Amnesty Programme, and warned that unless urgent steps are taken, the situation might degenerate to what it was in the past.
According to him, "Every day we hear that the Navy has captured an illegal refinery but we are not seeing the effect. The Navy presence in terms of really overcoming these illegal refineries is just a gimmick because it is on the increase. Are you aware that they just vandalised a pipeline today (26/01/2016) "Pipelines are being vandalised, sea robbery is on the increase again, under one week nine vessels in the same region, Ramose River Mouth to Brass River Mouth, from 14th to 21st, nine vessels were attacked and you are telling me the Navy is doing what".
Kerewerigha, who is also the Chief Executive Officer of Tomjak Nigeria Ltd. slammed the Nigerian Navy and the management of the Nigerian Maritime Administration and Safety Agency, NIMASA, of not doing enough to address the incidence of sea robbery.
He therefore called on government to establish a Nigerian Coast Guard, as a long term solution to the problem.
According to him, "We strongly appeal to the federal government to, as a matter of urgency instruct the Nigerian Navy, NIMASA and other relevant authorities to immediately commence an efficient patrolling of these areas to avert the killing of defenceless seafarers who are going about their legal duties."
He identified critical areas of concern in the Nigerian territorial waters to include Latitude 04*16.000N-Long, 005*00.000E to Latitude 05*30.000N-Long, and 006*00.000E, which span about 45 Nautical Miles into the Atlantic Ocean. "These areas are Middletown Rivers, Kulama Rivers, Fish Town Rivers, Akasa Rivers, Pennington Rivers and Brass offshores, which have turned to be free areas for sea pirates to attack seafarers and forcefully collecting their valuables, killing and maiming seafarers aboard fishing vessels, offshore supply vessels, cargo vessels and containers vessels etc".