If the postulation of Governor Abdul fatah Ahmed is anything to go by officials of Kwara State government collecting it's internally generated revenue (IGR) before now have been doing serious disservice to the government by diverting it's money to private pockets.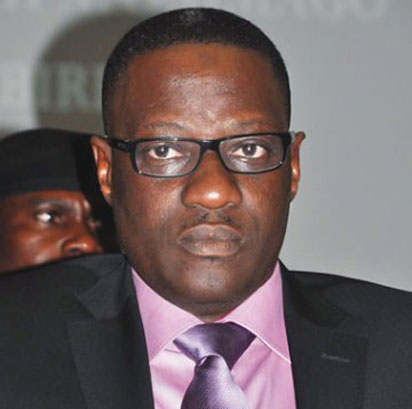 According to him,"a desk review of the previous revenue collection process showed we were losing about N5 billion annually, due to inefficiency and leakages".
Consequent upon the dwindled federal monthly allocations from N3.5b to N1.4b,the governor   on Monday,   commissioned the state Internal Revenue Service edifice,with the take off mandate to generate the   N5billion said to have been stolen annually, now monthly, back to the purse of the government. "Let me also use this opportunity to reassure the people of Kwara that KWIRS was not established to impose fresh taxes",the governor stated.
Sunday Vanguard checks revealed that the daunting reality that  the dwindled   monthly federal allocations and the paltry N600million it used to generate,would not in any way make the government   meet up with its financial challenges to all stakeholders in the state,made the option  imperative as  teachers and local government workers in the state have been on strike over non-payment of salaries.
Present at the ceremony  were captains of industry in the state,traditional rulers, artisans, transport unions,owners of various private  schools and tertiary institutions and other stakeholders who are targets of tax payment.
Speaking at the ceremony, Ahmed explained that the aim of the agenda"  is to ensure that Kwara is economically viable and self-sufficient, rising from our current position to achieve the second highest IGR per capita in Nigeria by 2019."
He pointed out that it was imperative that the IGR of the state was aligned with current realities, stressing: "The recent fall in global crude oil prices has led to a
significant decrease in the funds available for distribution to federal, state and local government from the Federation Account".The governor went on: "Our allocation dropped from an average of N3.4b to N1.4b monthly. To put this reduction in perspective, the state government requires  N2.4b monthly for workers' salary alone". According to Ahmed, when loopholes in revenue collection system are blocked, accruable revenues to the state government accurately and promptly remitted, the target would be achieved.  "One of the strategies we identified was to restructure our revenue collection system. Notwithstanding our best efforts, however, the defunct Board of Internal Revenue consistently failed to meet its set target of one billion Naira monthly, despite getting the necessary assistance from the state government ".
"It became evident that we needed to align IGR with current realities by   changing the people, processes and technology for revenue collection.  We opted for an automated system that simplifies tax payment, eliminates multiple taxation, ensures greater transparency and blocks loopholes".
He stressed that in line with this determination, government sponsored a bill to abrogate the Board of Internal Revenue (BIR) and create the Kwara State Internal Revenue Service (KWIRS). "Following the passage of that bill, I signed it into law,   establishing the Kwara State Internal Revenue Service (KWIRS) with the mandate to mobilize revenue, block leakages and expand Kwara State's revenue base with a monthly target of 5 billion Naira ."
"Aside from changing the people and remunerating them well with the provision of a well conducive environment to work, we have also changed the process with new General Receipts, Motor Licence Certificates, Tax Clearance Certificates and Consolidated Vehicle documents with more security devices".
The governor maintained that the new IGR target is a significant increase from the N800m Kwara used to generate. "Indeed, some people are of the opinion that this target is unrealistic. I disagree. Kwara state, I am convinced, has the population, commerce, resources and opportunities necessary for achieving that target of N60 billion annually", Ahmed said.
"Therefore, through the newly established Kwara State Internal Revenue Service (KWIRS) we intend to plug loop holes in our revenue collection system and ensure  that all revenues accruable to the state government are  remitted accurately and promptly".
The governor said that by ensuring growth in the various sectors of the economy, and  providing a conducive business environment, the state government aimed to  attract new investments to Kwara,  promote additional economic development and increase taxable revenue.
"Furthermore, we have started broadening our economic base by taking advantage of emerging opportunities in Solid Mineral Development and expanding our agribusiness drive. The subsequent growth in our revenues will not only enhance the lives of our people through better infrastructure, we also expect to see an increase in opportunities for collective prosperity", he stated. To achieve the set  objective, Ahmed flagged off the Kwara Resident Identification Number (KRIN), and Kwara State Revenue Court.
On KRIN, he explained that a unique number would be allocated to Kwara residents to enable them access government's services while also serving as a form of  identification. He urged residents of the state to take advantage of the free registration for KRIN to guarantee access to services such as education, health and other social goods.
On the Revenue Court, Ahmed explained that it was in compliance with the Kwara State Revenue Administration Law 2015 which created the state Internal Revenue Service. He, however,  said,"We have chosen to systematically move our revenue journey from the locomotive train that has  dragged it from about N100m monthly to N600m monthly between 2003 and 2010, and to about N850m in 2014.
As we embark on the journey we ask that you tighten your belt and enjoy your flight as we coast on the journey".