* Be ready for more sacrifice—Aregbesola
By Clifford Ndujihe, Gbenga Olarinoye, Olasunkanmi Akoni,  Akpokona Omafuaire & Monsur Olowoopejo
NIGERIANS, who fear that 2016 would be too tough a year have been urged to optimistic because there are better days ahead.
This was the view of some governors in their new message to their citizens.
Anambra has so much to Look Forward to – Obiano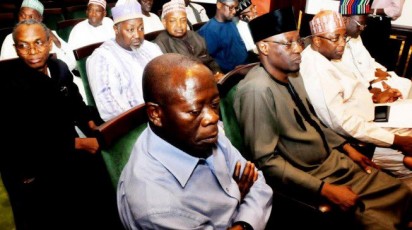 Governor of Anambra State, Chief Willie Obiano, expressed great optimism for the New Year, assuring the people that in spite of the severe economic recession experienced in 2015, there is so much to be hopeful for in 2016.
In a special New Year Message titled: Making the Most of this Turning Point, Governor Obiano described 2015 as a particularly difficult year for Nigeria, recalling that apart from being an election year, it was also a year of severe economic recession with oil prices dropping to an all-time low of $35 per barrel and analysts predicting that it would take years before it returns to $90 per barrel.
The governor, said his administration had foreseen the approaching economic storm of 2015 and made adequate preparations for it, a reason that Anambra paid salaries regularly while others are looking for bailouts and was courageous enough to increase salaries in amid economic adversity.
This year, Obiano said his administration would pursue a more aggressive growth in its fundamentals.
"We shall explore new growth prospects and review government policies that are inimical to domestic production. We shall stimulate production in the real sector through a strategic collaboration with select MSMEs. Already, the Anambra Small Business Association (ASBA) is spearheading this quest. In June last year, ASBA disbursed the sum of N1bn in small loans to MSMEs in the state in the first phase of our programme to galvanise that important segment of the economy and boost job creation."
Be ready for sacrifice, era of unearned revenues over – Aregbesola
However, Governor of Osun state, Mr Rauf Aregbesola, said the era of unearned revenues has come to an end and urged Nigerians to be ready to sacrifice for the country to survive the present economic challenges.
The Governor, in a New Year broadcast relayed on state television and radio, prayed that the year will be peaceful and usher in fresh opportunities, goodness, prosperity and abundance to all and sundry.
Aregbesola, on the current slump in world oil prices, said 2015 witnessed dwindling national economic fortunes, adding that the pillaging of the national treasury that was continued by the last regime was compounded by continued drop in oil prices.
He stated that the effect of the sharp reduction is that the distributable pool of the Federation Accounts that hit a zenith of N1.2 trillion in 2012 dropped to a new low of N369 billion in November allocations shared in December 2015.
Aregbesola pointed out that the implication for the Nigerian governments at the federal, states and local levels is that revenue derivable from the Federation Accounts, as the basis for running government, has been reduced to little or nothing.
He said: "The era of unearned revenue has come to an end. We are now entering into a new and special period where it is imperative for us to work for our own money before we can spend it. This period demands innovation, creativity, productivity, industry and wealth creation.''
2016 holds great promise for Lagosians – Ambode
In like manner, Lagos State Governor, Mr. Akinwunmi Ambode, yesterday assured residents that his administration would go all out to ensure a quantum leap in the areas of infrastructural development, job creation and improved security.
The Governor, who gave the assurance in his first New Year broadcast to Lagosians, said he was optimistic that 2016 will be a ground breaking year for the good people of the state.
While acknowledging the challenges that besieged the last seven months, Governor Ambode said his administration has been able to hit the ground running to deliver the dividends he promised the people during the electioneering campaign.
"The last seven months have been challenging, but with your patience, support and positive criticism, we have begun to display a positive outlook on innovation and inclusion we promised during our campaign".
"Under my administration, the year 2016 holds great promise for all Lagosians through improved security, creation of job opportunities and greater attention to positive infrastructure development… I am aware that 2016 will also bring economic challenges due to pressures of dwindling revenue from the centre, but Lagos has always been resilient and must consolidate on its self-reliance to ensure it survives any inclement economic weather," he said.
Ambode also assured that his administration will pursue greater channels to engage the youths in the state in 2016, just as he urged Lagosians to work with him to make Lagos clean, safe and secured for all. The Governor, who spoke at the Bar Beach while addressing thousands of fun seekers at the grand finale of the One Lagos Fiesta, a countdown event to usher in the New Year, said the N25billion Employment Trust Fund, an initiative of his administration, would take off this year, expressing optimism that it would help the youths to set up their businesses.
Wike assures Rivers people of accelerated devt
Rivers State Governor, Nyesom Ezenwo Wike assured the people of the state that his administration will use 2016 to build on the strong foundation it set in 2015 and ensure accelerated development across the state.
In his New Year message, Wike stated that he will continue to provide purposeful leadership, grounded in compassion and consideration for the well-being of the people.
"In 2016, I can assure you that we will build on the strong foundation we have laid and accelerate the pace development of the state with key investments in infrastructure to improve the living standards of our people.
"I charge you to be inspired as 2016 begins, because we are on our way towards realizing our collective destiny: the Rivers State of our dreams; a roundly developed, secure and prosperous state as envisioned in our development blueprint.''
Governor Wike said that he will use 2016 to touch critical areas of education, agriculture, security, economic programmes and rural development for the empowerment of the people.
Nigeria will be great again — Okowa
Delta State Governor, Ifeanyi Okowa, yesterday expressed the belief that Nigeria will be great again despite her present challenges, just as he urged Nigerians to play their individual roles in making the nation a safer place.
Okowa gave the assurance during the 70th Birthday Thanksgiving Service of Hon. Justice Roseline Bozimo, Administrator of the National Judicial Institute, NJI and former Chief Judge of Delta State at St. Anthony's Catholic Church, Ugborikoko in Uvwie Local Government Area of Delta State.
Okowa used the medium to call on well meaning individuals in society to affect the lives of the poor people around them and pray for the country to be great again. "We believe that Nigeria will be great again. Play your individual roles and God will do his own part.''
Earlier in his homily, Parish Priest of St. Anthony's Catholic Church, Rev. Fr. Emmanuel Brume charged government including Nigerians to respect human rights if the country must witness peace.
Fr. Brume who urged Nigerians to pray for the country said everyone should carry peace around by praying for the country and relying only on God.