By Boluwaji Obahopo
LOKOJA—Governor Idris Wada of Kogi State yesterday presented a budget proposal of N74.9 billion before a 10-man House of Assembly for approval for the 2016 fiscal year.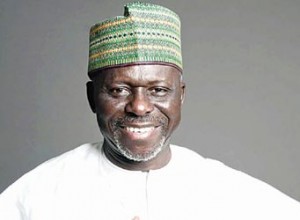 The budget tagged 'Budget of Consolidation' is N13.6 billion or 15.37 percent less than last year's budget of N88.61 Billion.
With the polarization of the House under two leadership, the presentation of the budget was done amidst strong security presence at the Assembly complex.
Presenting the Budget before the Momoh Jimoh Lawal leadership, Wada said the budget is divided into recurrent expenditure of N45.3 billion representing 60.45 percent and capital expenditure of N29.6 billion, representing 39.55 percent.
A breakdown of the budget shows that the sum of N7.6 billion would be expended on road development; the health sector would gulp N3.3 billion; N2.3 billion on education; N2.2 billion on law and justice while the sum of N2.1 billion and N1.1 billion would be spent on water and agricultural sectors respectively.
Wada said the inability of government to execute all its projects in the 2015 budget and the reduction in the 2016 budget was due to the dwindling fortune from the Federal allocation.
"The corollary of these factors is the significantly low accruable fund now at the disposal of Federal account which in turn has adversely affected our requisite earnings from the federation account. And our situation is not helped either as our determination to embark on massive drive in our Internally Generated Revenue, IGR, has partially yielded the desired results.
Wada added that in the outgoing fiscal year that the government proposed a monthly IGR target of N1 billion, but was able to realise just between N500 and N600 million instead.
"This is the grim picture of the state's economic realities which makes it imperative for government to take some crucial measures to minimise the adverse effects.
"In this regard that the state government has carefully crafted the 2016 Budget to enhance IGR, aggressively pursue repayment of debt owed us by Federal Government, provide more conducive environment for our development partners across the world to contribute to the state economy and more importantly, block all wastages and leakages in our revenue generation as well as emphasise completion of ongoing projects and bring on board few crucial and critical projects."
"We are also pressed at this point to as much as possible reduce the cost of running government. It is my fervent belief that the 2016 budget is clearly indicative of our fair, sincere and frank assessment of the amount the state can generate as well as what is expected from the federation account and other sources."