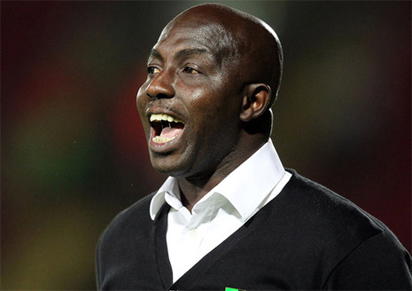 Siasia
After winning the CAF Under-23 African Cup of Nations coach Samson Siasia has stressed the need for his team and the Nigeria Football Federation to tidy arrangements, if Nigeria were to do well at the 2016 Olympics.
Siasia was speaking against the back drop of the hiccups in preparations for the tournament, which Nigeria won last Saturday, beating Algeria 2-1 in final. Siasia who won a silver at the Beijing 2008 Olympics stated that Nigeria was lucky to CAF U-23 tournament if face of the distractions.
"There is a whole lot of work to be done between now and August if we have to go far in the Olympics.
"I wasn't even sure we could make it to the final in Dakar. But hard work and intense discussions after every game ensured the boys corrected their mistakes – we came out victorious.
"There can be no substitute for hard work, concentration, serious focus and that's what we're going to do.
"If you don't get it right, you're in trouble at a major tournament like the Olympics. We still have a lot of tidying up to do over all.
"I have to thank the players for what they have done but they should not let it get to their heads because we need to correct our mistakes and improve our game before the Olympics."