By Olayinka Latona
Lagos—The General Overseer of  the Redeemed Christian Church of God, Pastor Enoch Adejare Adeboye, has urged Nigerians to pursue peace and virtues that would strengthen the nation's existence.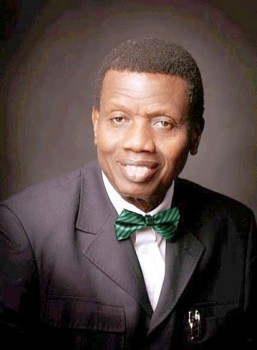 Adeboye made the appeal during 'Let's Go A-Fishing' programme, an annual event of the church organized by RCCG, Region 1 at CMD field, Magodo, Lagos.
Speaking on the theme of the programme: "Peace that surpasses", the cleric, who listed different types of challenges people go through that rob them of peace, assured Nigerians that victory is sure for those who can put their trust and confidence in God.
Lamenting that many were not enjoying peace of mind today because their ways are not pleasing to God, Adeboye said that for any person or nation to have peace, the individual or nation should please God by doing what is right and depart from iniquity.
In his words: "There could be marital, financial, career war, but there is a God who can defeat any problem, He can give you victory. But you must play your own part. When a child of God lacks peace, he should look inward. Ask yourself, What is it that I am supposed to be doing that I have not been doing. Or, what am I not supposed to do that I have done."