By Omeiza Ajayi, with agency report
ABUJA— Following the conclusion of the governorship election in Kogi State, the Independent National Electoral Commission, INEC, has explained why it could not declare any other person other than Yahaya Bello of the All Progressives Congress, APC as the duly elected governor of the state.
INEC said its hands were legally bound and so could not have changed the rules in the middle of the game.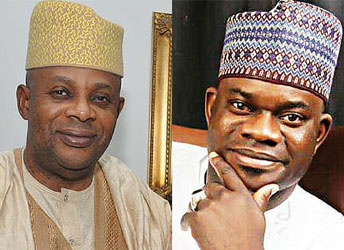 This happened as Bello's Deputy, Mr James Faleke, declared that he would not be available for swearing in with Bello on January 27. Faleke had, upon the death of his principal, Prince Abubakar Audu, written INEC to declare him as winner of the polls, despite INEC having initially declared the poll as inconclusive.
However, speaking on a television programme monitored in Abuja, Director in charge of Voter Education, Publicity, Civil Society and Gender Liaison, Oluwole Osaze-Uzzi, said the commission decided to err on the side of the law.
According to him, the guidelines were clear on situations that could warrant the declaration of an election as "inconclusive."
He said despite the fact that only about 13, 227 voters out of 49, 000 registered voters participated in the supplementary election, "INEC had a constitutional duty to conduct that election within certain parameters or framework.
"If INEC was satisfied that even one vote could make a difference, then we had no option than to conduct the election. It was not the making of INEC. Definitely, we would have loved  to complete everything on November 21."
The commission's spokesman said INEC has learnt its lessons and going forward, it will advocate a review of all relevant laws to capture the various issues thrown up by the Kogi debacle.
"We have learnt our lessons but we could not have changed the rules mid-way. A referee cannot just come up halfway into the game and say what used to be offside is no longer offside. The laws can only be reviewed after the match has ended," he said.
On Faleke
He added that at no time did Faleke withdraw from the race, saying it would have amounted to a legal absurdity for the APC to have made Faleke its governorship candidate and then making him nominate a new running-mate. Such a development, he said, would have thrown up fresh legal challenges.
"We got a letter from Faleke saying he is the governor-elect. At no time did he withdraw. APC never withdrew his name either. In any case, we never relate with individuals. We only deal with candidates through their parties.
"Even so, his withdrawal would have been correct if it was within the time for withdrawal, which is 45 days before the election, and if his party had forwarded his withdrawal letter to the commission. When he was nominated as deputy governorship candidate, it was his party that forwarded his resume, affidavit and other details to INEC and not Faleke himself," he explained.
I'll not be available for swearing in with Bello,
Jan 27— Faleke
Meanwhile, Mr Faleke, has said he will not make himself available for swearing in with Alhaji Yahaya Bello on January 27, 2016.
Faleke stated this at a meeting of APC stakeholders in Kogi West Senatorial District in Kabba, Kogi State , yesterday
He explained that this was in furtherance of his earlier letter to the national leadership of the party not to work with Bello, then governorship candidate.
Faleke, who was reacting to resolutions reached at the meeting that he should pursue the legal option to a logical conclusion, held that the Audu/Faleke ticket remained intact and unchanged.