By Jacob Ajom
Against the back-drop of intense media speculation that national U-23 team coach, Samson Siasia would be sacked soon, a member of the Technical Committee of the Nigeria Football Federation, Ahmed Yusuf Fresh has informed that the football house has no intention of sacking the Olympic silver medal-winning coach.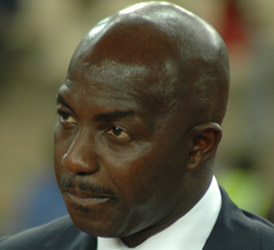 Speaking exclusively to Sports Vanguard yesterday, Yusuf insisted that media  reports that suggested the impending sack of Siasia after a rash of media interviews on the state of affairs in the U-23 team's camp were a clear misrepresentation of facts.
"There has never been a time we in the technical committee or at the executive committee level discussed any such thing. I am a member of both committees and never has that come up for discussion."
Fresh admitted however, that the Olympic team coach was queried after what was taken as an affront against his employers. "But that was not enough for the media to suggest that it would lead to Siasia's sack.
"Siasia was queried and he has since answered to the query. It is a normal administrative procedure which should not call for speculations that are unfounded. There is no intention to sack Siasia,"he repeated.